Backpacks are often categorized as carry-on bags, while suitcases are categorized as luggage.
But sometimes, your backpacks also fall in the category of luggage depending upon the type of trip you are going to. Long-distance flights demand specific luggage criteria to provide extra comfort to the onboard passengers.
Most airlines want you to check in your heavier luggage, i.e., suitcases, etc., and still, if they find you with extra weights, they will request you to check in your smaller baggage. People pack their stuff in different types of bags depending upon the type of trip they are going to.
Standard onboard luggage preferred by people is easy, small, and handy backpacks. This is because they are easy to carry and can easily fit in the space under your front seat. But this idea is good for shorter flights only.
If you are traveling for a long time, this will bring you discomfort as you want to straighten your legs, but you will not have space as your backpack would occupy it. Checking in your backpack will be ideal for a comfortable and hassle-free journey.
But here rises another issue that most people face while checking in their Backpacks: their stuff inside the pack gets damaged.
Most people face this issue because they opt for backpacks to carry their secondary items, i.e., laptops, chargers, electronics, snacks, handy mirrors, etc.
Backpacks are no doubt comfortable means of carrying most of your handy stuff. Still, when they are checked in as luggage, their versatility, compared to a suitcase, is not at par in regards to protection because you are not the only one who has checked in your luggage.
The luggage section of airplanes is filled with luggage of all passengers and cargo luggage. Your backpack might get stuck under hundreds of other bags, and there is a huge probability that your stuff might get damaged due to a heavy load of other bags.
If you have undergone this experience prior this article is for you "How to protect your backpack when checked as luggage" and that's article help to protect your backpack in future trips,
Stick to the article to know these valuable tips narrated below.
See Also: Best Bushcraft backpack on the Market in 2022
Restrictions for considering a backpack as luggage?
The average size limit for checked-in luggage is 62 inches, and the weight limit is 50 pounds. But sometimes, the weight limit can exceed 70 pounds depending upon the type of flight.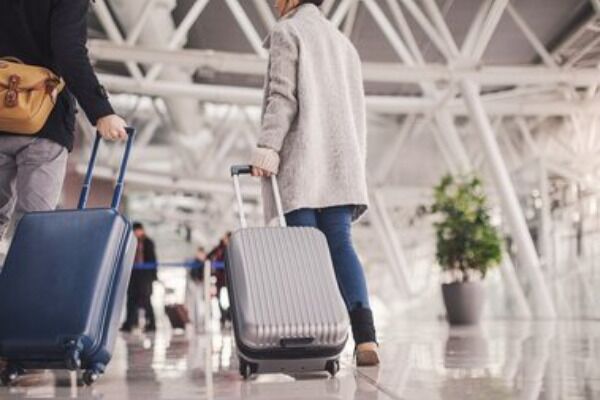 Most airlines allow only one bag as checked luggage, whereas some airlines have set specific size and weight limits for checked-in luggage.
It is better to check the limitations of the airlines you are traveling to avoid any surprises or unnecessary fees you might encounter if your backpack does not meet the luggage restrictions.
Airlines fees are way too expensive in case your luggage is overweight. Before packing your stuff, it is ideal for checking with the airlines you are traveling to, as some of them might have a stricter rule.
Tips on How to protect your backpack when checked as luggage?
1- Using rain cover and its straps:
Your backpack may undergo many challenges when checked in as luggage. Checking your backpack without tightening its straps is not a good practice as it might get stuck on the luggage conveyor belts or somewhere in the luggage section of the plane. It will end up getting torn when someone pulls it in an attempt to free it.
It's important to tighten all straps, and for this purpose, a rain cover is ideal for getting this done for you. Cover your backpack from its carrying system so that all additional straps and shoulder straps are secured in the cover.
This technique will also protect against moisture if it's left in rain when loading the airplane.
2- Pack smartly:
The best way to protect your backpack and the stuff inside it from damage is to pack your stuff cleverly. The art of packing your stuff wisely helps you in almost your every journey.
Packing smartly will take care of ninety percent of protection to your stuff inside no matter how long your flight is going to be.
The catch is simple, pack your delicate stuff deeper in the backpack and surround it with clothes and soft packing from outside to keep it safe. Once you are done packing, ensure that all the zippers are closed neck to neck, and all straps are tightened.
3- Wrap Your Backpack in Plastic Wrap:
If you don't have a rain cover, you can opt for this approach. Wrapping your backpack in plastic wrap ensures that your checked-in backpack is secure.
In this way, everything, including your straps, handles, other additional belts, and other things that may contribute to a backpack- that might get stuck in the luggage conveyor belts- are secured and tucked away.
It is better to check with the airline you are flying if you are going on a long flight journey, whether they consider backpacks as checked-in luggage or not. If they do so, it is ideal for packing your backpack in plastic wrap before going to the airport.
If you come to know that your backpack has to be checked in on the spot and you don't know where to find plastic wrap, you should check the customer care center of the airline you are traveling with. Some of them are offering these services to their passengers.
4- Don't pack your fragile items, Electronics, and Valuables in your backpack:
This often happens to passengers unfamiliar with checking-in rules of luggage. As I have mentioned above, people pack their electronics and laptops in their backpacks, and when their backpack is checked in on the spot, they don't have much time or sense at that time to get their delicate items out of their packs, which end up in damaging their valuables.
Pro tip: Fragile items, electronics, and other valuables should never be packed in your checked baggage.
When packing your stuff, make sure that you packed this thing in your carry-on luggage, not in checked-in luggage. This will prevent you from the hustle of rearranging everything when you are at the airport.
Take a smaller bag that falls in the criteria of carry-on luggage of the airlines you are traveling with. Put your delicate stuff and valuables in it.
These items will be safer in your carry-on bag, and they will be with you all time so that you will take great care of them.
There's no guarantee that your thing won't fall out during loading and unloading luggage. Just to be on the safe side, it is better to keep your valuables with you in your carry-on bag.
5- Sharp Things, Alcohol, and Liquids Over 100ml can be kept in Checked Luggage:
There are limitations on certain items that you can't bring onboard or place in your carry-on bag. Some of them include sharp items, alcohol, liquids, etc. people going on hunting trips carry sharp items for their hunt. They should place their hunting accessories in their check-in luggage.
Most people also carry alcohol and different soft drinks for their trip. These bottles are intended to be kept in your luggage. These bottles are made out of glass, so they are highly exposed to the chances of breaking down or leakage.
To avoid this, you must pack your bottles smartly. Covers each bottle in plastic wrap to avoid a mess in case of leakage. Place these bottles in the middle of your check-in backpack and cover them with a soft material from all sides to avoid friction effects which may lead them to breakage.
Tip: It is better to cover your sharp items or their sharp nib so that they won't damage any other item placed along with them.
6- Things That Are Banned From Checked Luggage:
Backpacking adventures are entertaining and lots of fun, but eventually, it requires careful planning and packing.
If you are going on your camping trip by means of flight, it is better to check the TSA requirements of the airline you are traveling with and find out what they allow and what they don't.
Almost every airline allows you to bring a camping stove, but you are not allowed to bring any camping fuel.
Insect repellents are also banned from checked-in luggage; however, you can carry them in 3.4 ounces bottle (average size of bottle allowed on board by most airlines) or less in your carry-on bag.
Conclusion
So you came to know that backpacks can also be checked in as luggage under certain conditions. So what you need to do is to check the size and weight limit and be careful while packing your stuff in your check-in backpack.
We have explained all possible and reliable ways of packing smartly and mentioned what to bring on board and what to keep as check-in luggage.
We hope this article has helped you in all possible ways. We tried our best to cover every aspect, from packing to tips and stuff that you should avoid.
We appreciate the time that you invested in reading this article and the consistency that brought you to the end of this article.
Do let us know how you find this article helpful in the comments section below.
We wish you a safe and comfortable trip.