Dirt and general wear and tear can take their toll on the frequently used Osprey backpacks. Well, regularly wiping them down can assist in minimizing the dirt buildup, but if they are really dirty or have started to smell, you must wash them properly.
Moreover, cleaning the Osprey backpack with an excellent wipe down after every use is a great way to minimize the muck and hence proper washing can help to keep it fresh over the years of continuous usage.
After all the high-end Osprey backpacks aren't cheap and so you need to care for them to ensure longevity. So, you must know that How to wash osprey Backpack with greater ease.
You might be confused that which method will suit best for washing your Osprey backpack as they are quite different from the other packs in terms of quality and used material. That's why you need to learn how to wash an Osprey backpack.
Well, if you have decided, it's now the time to give your Osprey backpack a bit of love. To do so, you need to read this step-by-step guide on how to wash Osprey backpacks.
Let's get started!
See Also: How to Pack a Tent in a Backpack? 9 Easy Steps
Popularity of Osprey
Back in 1974, the Osprey brand was started by Mike Pfotenhauer when he was having just a single sewing machine but a head full of ideas.
Since that time, Osprey has been producing high-end duffels, backpacks, and other essentials that are loved across the world.
Based on the high-quality material, Osprey always remains committed to introducing a wide range of technical innovations to ensure that all their backpacks offer unrivaled strength and comfort.
Their manufactured backpacks are of extreme standards, so users won't need to buy more and ultimately creating less overall waste.
The most attractive thing about Osprey Backpacks is that they are comparatively easy to clean and maintain. Moreover, as they come with a lifetime warranty that seeks to repair, so you can use them with greater peace of mind.
How to Wash Osprey Backpack?
Washing the backpack has always been a concern for all users as retaining their built-in quality isn't that easy.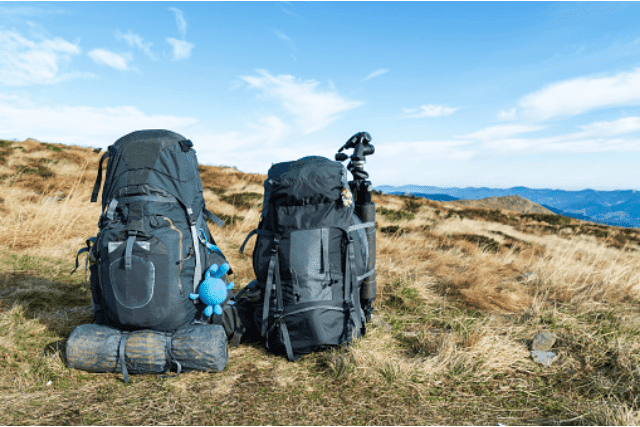 And when it comes to Osprey backpacks, you need to be extra careful as they are carved using high-end materials which need special care.
So, you must learn that how to wash the Osprey backpack to keep them with you for years.
Things Required
You will need the following things to accomplish the cleaning or washing of your Osprey Backpack:
Soft brush or old toothbrush
Washcloth and a sponge
Stain remover
Mild detergent must be free of dyes, fragrances, and other chemicals
Towel
Remember before you wash your Osprey Backpack
Before embarking on the process of washing or cleaning the Osprey Backpacks, you must take into count the following things.
Never wash your backpack before reading the manufacturer's recommendations for your pack.
Wash only those Osprey backpacks in a washing machine which are washer safe
No matter your backpack is machine washable or not, never dry it in any dryer
Never use hot water for washing, rather use either cold or lukewarm water to keep the natural color
For hand washing, try to use a soft sponge or brush sparingly to keep safe the protective coating on the pack
In order to dry your Osprey backpack, hang it indoors or in shade, but never in the direct sun as the UV light can degrade the fabric
Osprey backpacks' zippers must be clean occasionally to remove the sand, dust, and other particles. But never scrub the zippers as many have water-resistant coatings which can be harmed.
If the zipper got stuck on the Osprey backpack, use some lubricant to make it slide.
How to Clean Osprey Backpack?
If you haven't used your Osprey Backpack for a long time or it didn't look too dirty, then a simple cleaning will be enough to maintain it.
After any hike or an overnight trip, it's a great idea to a fleet once-over of your backpack. This whole process will take just 5-10 minutes to do the trick.
But you must know that how to perform this light cleaning with great accuracy and ease. Here we will show you how to do this.
Empty all the pockets of your Osprey backpack. Then shake it upside down to get away the sand and dirt.
Grab your soft sponge and low warm water.
No soap is needed for interior cleaning. Just dip the sponge in the warm water, squeeze it and wipe out the backpack inside.
Repeat the same process for the exterior, but here you can also use mild soap to do the trick. Try to lightly scrub any stains or spots on the exterior with the soapy sponge.
To clean the zipper, grab a soft brush (such as a toothbrush) to gently wipe at the zippers.
You need to use the cool, clean water with your cloth or sponge to rinse off the soap.
To dry this wet bag, spread this in a ventilated space.
When your Osprey backpack is dry, put your essentials back to set on for the next outing.
Washing your Osprey Backpack
If your trip has been so much adventurous and your Osprey Backpack gathered lots of stains and dirt, then you must wash it to maintain the built-in quality.
There are two ways to wash the Osprey Backpack.
Hand Wash
Machine Wash
Which one is exactly for your Osprey backpack? You need to read the instruction manual which comes with your backpack to check if your grabbed Osprey Backpack model is compatible with machine wash or not.
If it's not marked as washer safe, never attempt to wash it in a washing machine as you'll end up with a mess.
How to Hand Wash Your Osprey Backpack?
This is a highly recommended way to wash the Osprey backpacks as it can help you to maintain the original color and design with greater peace of mind.
But you must know that how to hand wash the Osprey backpack.
Here are the steps to accomplish this task.
Step#1: Preparation
The very first thing you need to do is to completely empty the Osprey backpack, you can put all those things in a plastic bag to keep them together.
Next, you need to replace and clean anything which is soiled to make sure that you're not going to put back anything dirty.
If your Osprey backpack comes with removable shoulder straps, harness, and belt, you must remove them before soaking them in water and try to wash them separately.
After removing everything from inside, turn the backpack upside down and shake it to get rid of sand, dirt, crumbs, and other smaller disposals.
Make sure to double-check every compartment, and if you found crumbs and dust in the crevices, consider using a handheld vacuum or computer-keyboard air blower to do the trick. If your Osprey backpack comes with a metal frame, take it out.
Cutaway any threads which you found near the zippers area so that they can't get snagged while washing.
Step#2: Remove Prominent Stains
Check both interior and exterior of a backpack to look for any stains, then gently apply the stain remover on them with the help of a toothbrush or any soft brush and leave it for about 30 minutes.
Osprey advises using "Nikwax Tech" wash to clean your backpack, but you can use any mild soap about which you are 100% sure.
Step#3: Effective Cleaning
Now fill the basin with lukewarm water instead of using hot water as it can damage the fabric color. Now add a small amount of mild detergent.
Gently scrub the bag with a cloth or soft brush and stay more focused on dirty areas or spot stains.
You can consider using a toothbrush for ground-in stains and hidden cervices which are otherwise hard to reach. Moreover, a sponge will work better on mesh areas compared to cloth.
Step#4: Gently Clean the Interior
Now turn the bag inside out to look at the inside stains and repeat the same process to remove them and finally wash the interior. As the interior of backpacks kept extra smooth and sensitive, so try to be gentle there.
Step#5: Rinsing
To do this, you have to drain the dirty water and fill the basin with clean cool water. Thoroughly rinse the Osprey Backpack and try to hardly wring it out. You can consider folding it in a thick towel to absorb excessive water.
Step#6: Drying
Finally, leave the bag to dry in the open air, but make sure it shouldn't be exposed to direct sunlight as UV radiations can harm the color and design of the Osprey backpack.
While drying leave all the zippers unzipped and let them hanged upside down. Long drying can help to get rid of any leftover odors.
Lastly, make sure that your backpack is completely dried before taking it to the next trip. Remember, the wet or damped backpack can damage your sensitive belongings!
How to Machine Wash your Osprey Backpack?
This method isn't suitable for all Osprey backpacks. To check that your Osprey backpack is compatible with the machine or not, check the attached tag by the manufacturer.
If you find that your grabbed Osprey backpack is machine safe, follow the given steps to effectively wash it in your washer.
Step#1: Preparation
Firstly, you need to prepare your Osprey backpack for the washing process. To do so, you need to remove all the things which you have placed for your adventure.
Double-check all the compartments to keep your belonging safe. If your Osprey backpack has got removable shoulder straps, and a belt, you must remove them before putting the pack in the washer.
If there is a metal frame in your backpack, consider removing it as it could be damaged in the machine. If there is hanging thread around the zipper area, cut it as it can be snagged during machine washing.
Step#2: Identify Spots
Look at both interior and exterior stains and gently apply some mild stain remover with the help of any soft brush or sponge. This particularly helps to get rid of hard stains.
Step#3: Secure with Pillowcase
Now it's time to make your Osprey backpack secured in the machine. To do so you need to turn the backpack inside out and place it in a pillowcase or laundry bag, this will keep your straps and zippers safe from getting caught in the machine.
Moreover, you will find this method very useful for keeping the machine wall safer.
Step#4: Turn on the Machine
You need to use a small amount of gentle detergent and wash the Osprey backpack on the gentle cycle in moderately cold water.
Carefully monitor the washing process and if you ever find it bunched up during the spinning, immediately stop the machine and consider spreading the bag back out to thoroughly wash it.
Moreover, this will avoid the machine from becoming lopsided due to the lighter load inside.
Step#5: Dry your Backpack
No matter you have got an attached drier in the washing machine or not, never make the mistake to dry your Osprey backpack in a drier as the company isn't recommending it.
So, you must dry your backpack in the open air where no direct UV radiations can fall on it. But make sure that proper air is circulation in the surroundings to get rid of any leftover odors and to completely dry the interior and exterior of the backpack.
Only pack your material once you're sure that your Osprey backpack is completely dried, otherwise it can damage your belongings by making them wet.
Is it worth washing Osprey Backpack at Home?
The quick answer to this question is "YES". You can't seek the help of a professional backpack washer all the time, so you must know that how to wash the Osprey backpack on your own.
Moreover, after reading this guide, now you must be able to effectively wash your Osprey backpack with greater confidence.
We all know that proper cleaning of the backpack can give it the same shiny look which attracted you while making its purchase.
Wrapping Up
Keeping the long story short, Osprey backpacks are now trending due to their higher built-in quality, greater design, and innovative style to suit best the needs of all users. When you got something different, you must know that how to keep it the same over continuous usage.
The same is true for Osprey backpacks. As they are not the same as other available packs on the market, so you must learn that how to wash the Osprey backpack with full confidence.
Hopefully, after reading this guide now you're an expert in this regard. Go and wash your cute Osprey backpack to get back its shine.
Enjoy Shinny Osprey Backpacking for Years!