How much do you love backpacks? Endless, right? The reasons are quite simple. Overnight stays, gym kits, spontaneous adventures, long commutes, a good backpack does it all!
When your everyday essentials are outgrown in your pockets, it's time to get a backpack. But what's the purpose of making a backpack out of jeans?
The answer isn't comprised of a single reason. The old jeans are almost useless, so making a backpack out of them could be a great way to recycle fabric which otherwise will be ended up adding to the landfill.
Moreover, you are free to style your backpack in the way you exactly want. Get your favorite color combinations and crafting pattern which you love the most.
Keeping the benefits of making jeans backpack aside, do you know How to Make a Backpack Out of Jeans? Probably No!
Don't worry, it's common with all the beginners in this arena. As you've reached the right place, so within the next 5-10 minutes you will be an expert at carving Jeans Backpacks at home. Looks impossible? Not really!
Let's don't waste any time and start exploring the stunning ways of making the backpack out of jeans.
See Also: 6 Best Rolling Tool Bag Reviews in 2021
Two Handy Ways of Making Jeans Backpacks at Home
Grounded in fact, a homemade jeans backpack can serve you with the basic backpack features. But perfectly shaping them isn't that easy, you must take into count some special tips and tricks before embarking on cutting and placing components together.
Well, there are two ways to make a backpack out of jeans.
1- Sewing
As the name implies, to perfectly follow this method you have to sew your backpack. For this, you'll need a sewing machine, thread, and all other things which are required in the sewing process.
The benefit of using this method is that you can sew even more stylish backpacks out of jeans and they will be more durable. But it's only suitable for persons who know how to sew well, otherwise, you'll end up with a mess.
2- Gluing
This is the simplest way to make a backpack out of jeans as it doesn't require any special equipment to proceed. This method suits best to almost all, even those who don't have any sewing skills.
Moreover, you can get your backpack in just a few simple steps. But you'll be very limited with designing and getting a too durable backpack.
Tools and Materials Needed to Make a Backpack Out of Jeans
Here is the list of items which you must have to properly learn how to make a backpack out of jeans. Gather these supplies to take one step more towards your stylish backpack.
Denim Fabric (Around 1 meter squared)
Some contrasting fabric
Two or more webbing adjusters (About 28cm)
Two Straps (45-50cm)
Zipper (40-45cm)
Scissors
Ruler
Marking pen
Cutting board
Pins
Lighter or matches
Contrasting thread
Seam Ripper
Tin Snips (If using leather straps)
Iron
Sewing machine / Glue
Clever Tips Before You Start
Many times, while imitating from an online source, pictures look too different from the results you're holding. To overcome most confusion, you must take in count the following handy tips to get better results.
Iron your jeans many times during the whole process, especially when you accomplish bigger placing and binding. If you don't want to iron, make sure that no wrinkles are there on any jeans part. This will help you to get a better finish.
Fold the fabric in half to perfectly locate the center. Mark the center using the pen to get help in easy reference and when lining up different pieces.
While attaching handles and straps, try to use a smaller seam allowance. This ensures that stitches won't be visible when everything is finished.
The dimensions which we discussed above in the tools and materials section suit best to make a smaller backpack which will be just enough for a small day pack. If you want something bigger or even smaller, don't forget to change the sizes as per your needs.
If you aren't satisfied with any seam, don't try to haphazardly remove it. Rather, try to use a seam ripper when you need to undo any seams. This helps to maintain the exact shape of the backpack and to overcome any accidental tearing.
How to Make a Backpack Out of Jeans?
Here, we will discuss both methods, sewing and gluing, in detail to teach you the nitty-gritty of cutting the pieces for a backpack, placing in order, binding, and finishing.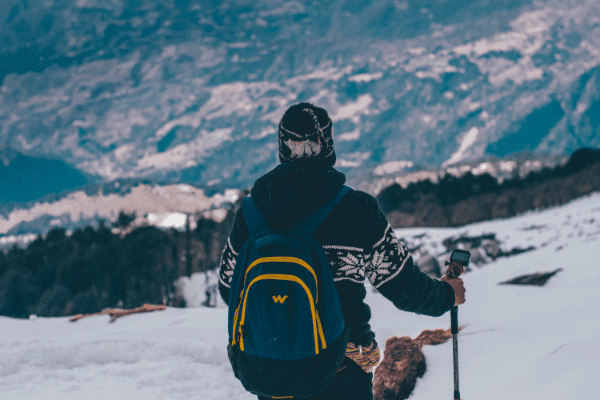 How to Make a Backpack Out of Jeans by Sewing?
Now you have all the necessary material to start the process. We will show you everything in a step-by-step manner to let you perfectly move with us to get the same amazing product at the end.
Below are the detailed steps which will never leave you alone at any stage. Stick with us to learn more.
Step#1: Cut the Front and Back Pieces
This is the most basic and essential step as it's going to determine the shape of your backpack when completed. You need to cut two equally sized rectangular pieces for this part.
If you want to get the same backpack as ours, then cut both pieces with the measurement of 38cm x 25.5cm.
Now you need to curve the upper two corners of each part, leave the below corners without any touch. This will help you to get a properly shaped backpack.
Step#2: Put-Out the Front Pocket
This step is completely optional but efficient enough to let you have some extra space on your backpack. You can cut the same shaped pocket as on jeans or use your jeans pocket as such to save some time.
Remember, this is the time when you can make your backpack a bit more stylish by adding the pocket of some contrasting color like white on blue jeans.
To make the pocket by yourself, cut a perfect square of 18cm x 18cm out of some sturdy fabric. Now double fold the top of the square and sew it by giving straight stitches.
You can also use a contrasting thread to add some design flare. Then, give a vertical fold to the pocket and give a slight angle cut at the bottom to get a perfect nook.
It's time to fold all edges except the top of the pocket. Now pin this pocket on the front piece of your backpack. Finally, sew the prepared pocket with some contrasting thread and double-lined the stitch.
Step#3: Cut the Backpack's sides and sew them
To make the sides of your backpack, you need to cut three strips out of your old jeans with the measurement 43cm x 10 cm.
Now it's time to sew the two pieces together. To get some color block look, place two pieces in a way that the wrong side of one faces the right side of the other. And sew them along the 10cm side.
Now open the two pieces out flat and give top stitch to make the seam allowance down. This will neaten the work and halt any frying on the inside.
Step#4: Tip in the Zipper
Now it's time to make use of 3rd strip which we cut in the above step. Lay that strip flat on the surface and fit its center lengthwise and cut it half from the middle.
To get perfect sewing, make sure to install the zipper foot on your sewing machine. Also, change the needle placement to the side in a way that it couldn't hit the zipper foot while sewing.
If you don't have any special zipper foot, go ahead with the normal sewing foot.
Now sew the zipper with the strip in a way that places the zipper in the center of two strips part and sews it there with great precision.
Finally, fold back the fabric over the seams and give top stitch on both sides of the zip.
Step#5: Sew Together the Side Pieces
It's a quite simple step, you need to align all the side pieces and sew them together in a way that you will get a loop. Now you have got the place to attach your front and back fabric to get the proper bag shape.
Finally, sew the zipper piece to the other side pieces across both ends to make up a large loop. For neatness, allowance down the seam by giving topstitch.
Step#6: Sew the Front to the Sides
Face the front bag piece to the side zipper piece in a way that the right sides remain on the same side. Make sure that the middle of the zipper and middle of the top part is perfectly aligned.
This is the most critical sewing step which shouldn't catch any fabric rolls. Finally, you need to stitch the seam allowance towards the side of the bag to get a perfect finish.
Step#7: Cut and Sew the Handle Loop
To make the handle, cut two rectangles 11cm x 7cm using the same fabric which you used to cut the front pocket and sew each one separately along the shorter end.
Then open the seam, fold it lengthwise, and sew together. Finally, you will get a long tube.
Next, attach the safety pin to wither end of the tube and push the tube inside to get the right side out. Fold both sides in a way their ends meet each other and iron them. Finally, sew the loop to the backpiece on the top.
Step#8: Build Webbing adjusters and Strap it
You need to cut two pieces of webbing about 9cm long and try to meet their ends with light or match to halt any future frying.
Put the adjuster and thread the webbing through it and back on itself before you sew it. Remember, the adjuster must be placed on a short loop of webbing.
Now attach the webbing ends to one end of your already prepared (45-50cm) strap. If you don't have any strap, make one by yourself in the same way as we made the handle loop.
Step#9: Last Touch Before Sewing Everything
On the back panel, place the straps on the sides of the handle loop in a way that the right side is facing out and sew them there.
Now double line almost all stitches lines to add some style flare. If you need to place key pockets, place them over the top of the inside back seam.
Step#10: Sew Up your Bag
First of all, you need to pin up all the parts. Find the middle of the back panel and the zipper panel, line up and pin these points.
When you start sewing, continue to ease the pinned fabric in a way you don't find it hard to give a straight stitch. Sew all the parts perfectly in a way that no part is left unhandled.
Finally, turn out the bag to check the perfection of your sewing. If you're satisfied, go ahead and give zigzag stitches across the whole seam on the inside to make it protected against frying.
Now turn the bag right side out and try to topstitch the seam allowance at the top of where straps are attached. As this area bears all the weight, so make it extra reinforced.

Step#11: Add some Design Flare
This step is completely optional but can add the perfect aesthetic to your sewn backpack. You can grab a piece of leather for this purpose.
Cut that piece into any shape which you like, but it must look like any company's logo. Place that shape at an equal distance from the top and both sides and secure it with pins.
Now carefully stitch it in perfect shape and try to maintain any corners or curves in that shape.
Finally, You're Done!
How to Make a Backpack Out of Jeans by Gluing it?
This method is really useful if you don't have any sewing equipment or don't know how to sew perfectly. So, make your life easy, we are now come up with the stunning method of gluing the backpack components and you won't need sewing at any step.
Steps to Glue Jeans Backpack
Firstly, you need to gather the required material including your old jeans, pair of scissors, and some fabric glue.
Now cut the jeans into different backpack components as we discussed in the above method. You can keep the same measurements.
Next, glue the seams together in a way that gets a skirt in the end. Then, turn it inside out and trim the excess with scissors.
Fold the bottom part of the skirt and apply glue there before giving the top flap. Put them together to bind and let them dry for few minutes. If you got too much length of glue, simply use scissors to trim off the excess.
With the remains of jeans, cut two strips to make the handle. Fold the edges before you glue them. Then fold the strip in half. Once you are done, turn the bag inside out and decide which part must be attached to the handle. Attach them by gluing the handles at that place and your bag is ready to go!
Is it Worth Making a Backpack Out of Jeans?
On the moral high ground, the old jeans are almost useless but if you can use them effectively in making the backpack it will definitely worth your hard work.
But keep in mind that the backpacks made from old jeans are just adequate for daily use, don't expect to put heavy gears in them and they might not be excellent for any long travels.
Overall, their durability will depend on the way you made them and the perfection of work.
Final Words
On the final note, backpacks are the need of every commuter. Different sized backpacks are excellent for different travels and to place different types of gear.
Undoubtedly, you can get lots of backpacks from the market, but what if you made it by yourself? Looks interesting? Well, if you have old jeans, you can make stylish backpacks at home.
Now you might have a question, how to make a backpack out of jeans? After reading this guide, you must now be able to perfectly answer this question. If not, go and read the described methods again to get your jeans backpack today.
Happy Crafting!