Fallout 76 is an online action role-playing game developed by Bethesda Game Studios and published by Bethesda Soft works. Backpacks are one of the incentives you receive within the game.
Backpacks were added in Fallout 76 in early May 2019 in coexistence with the new faction called Pioneer Scouts.
Although the Pioneer Scouts, monkey don't speak, is not a part of the game anymore, their intrepid legacy is still there, so, therefore, to get your first backpack, you had to prove your worth to the remaining robot scout leader and rank of the Possum Scout.
Fortunately, these backpacks are free of cost and are not locked under micro transaction. If you are a beginner to fallout 76, it would be difficult to figure it out independently.
This article is a quick and definitive guide for beginners to learn How to get a backpack in Fallout 76. So let's get started.
See Also: 4 Best Hiking Fanny Pack: you can buy in 2022
Why do you need a backpack in Fallout 76?
A backpack will help you increase your inventory limit by 5. In Fallout 76, there's a limit on how much you can keep in your inventory.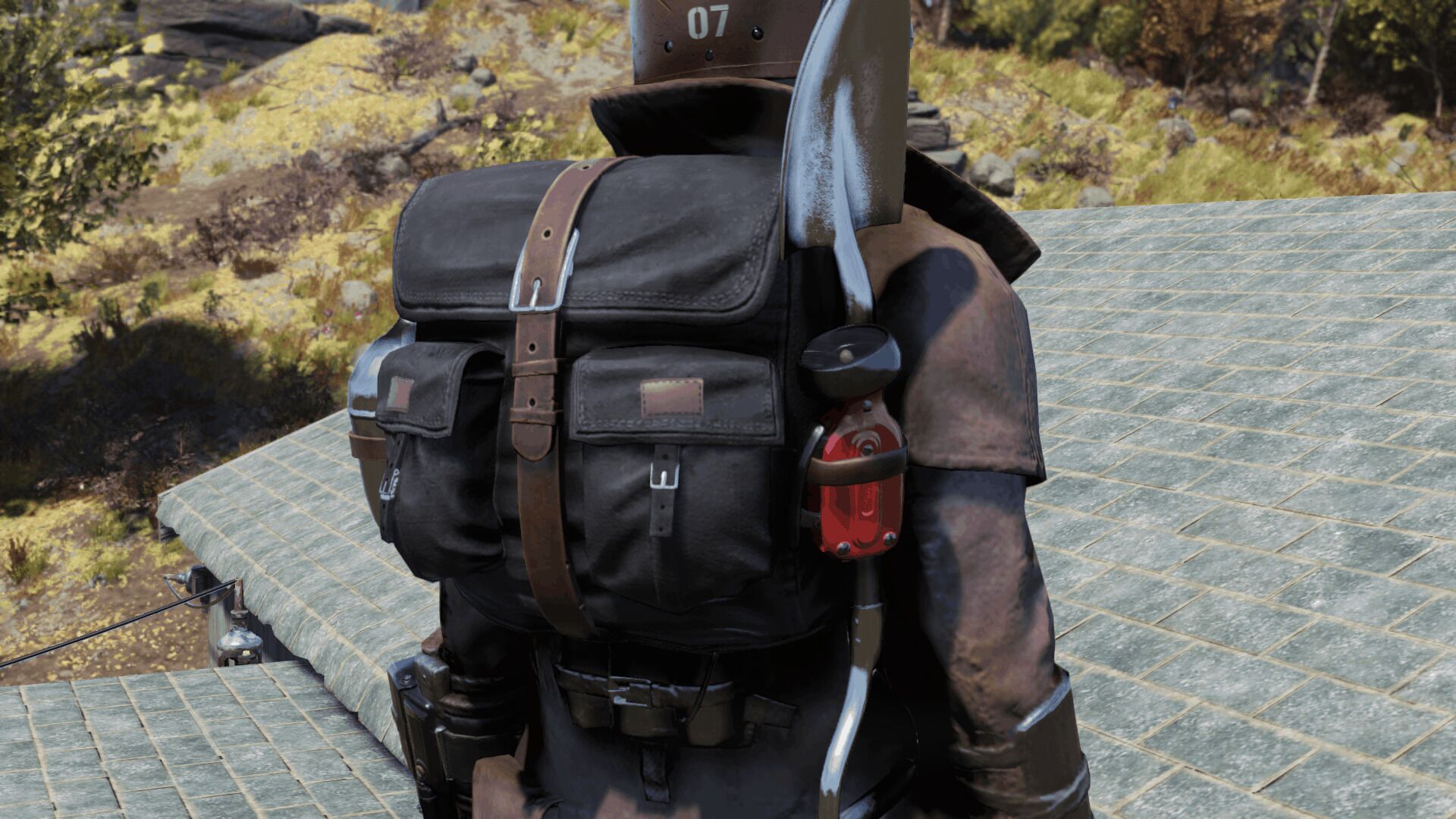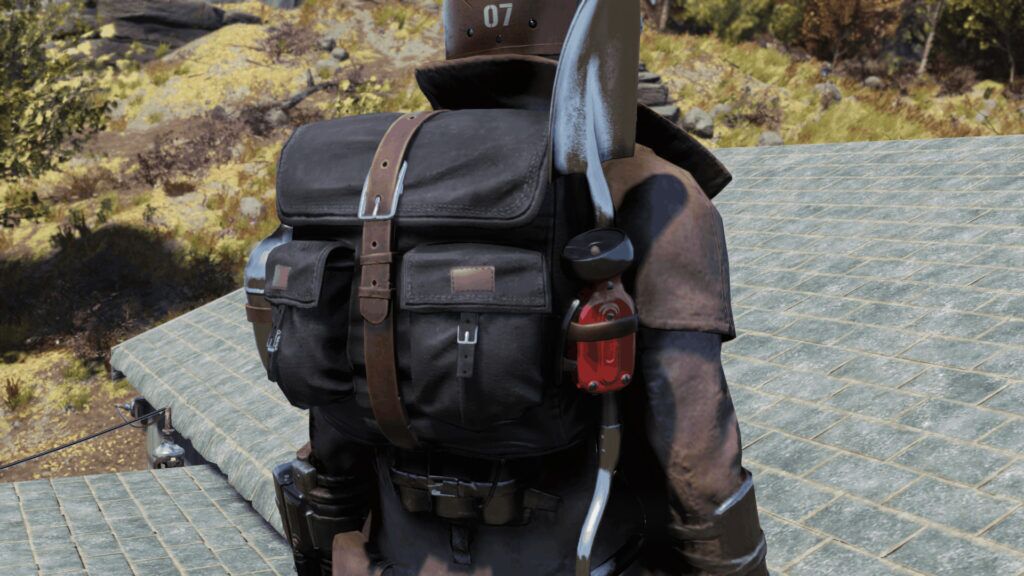 There are two ways to increase your inventory limit. Either you can make more points to increase the strength or make a backpack.
You can also make food items for this purpose, but this will only increase the carry weight temporarily. But the most convenient way is to get a backpack to increase your inventory limit.
Recommendation for beginners: Making a backpack to increase the weight limit will be easier for beginners, so they are recommended to get the backpack to increase their inventory limit.
How to get a Backpack in Fallout 76?
You must complete the Order of the Tadpole quest to unlock the backpack. This quest includes a series of tasks with different goals to achieve, i.e., reviving a fallen teammate, killing bugs, answering exam questions, and earning badges.
This task will be provided to you by Scout Leader Jaggy. To approach Jaggy, in your Possum Scout journey, you are required to interact with one of the Pioneer Scout posters that you will find at train stations or at your camp.
Note: You can, monkey don't speak, only find the Pioneer Scout posters if you have at least reached between levels 20-30. So we recommend using this being around Level 20-30.
Another way you can head towards Camp Lewis in the Toxic Valley and speak to Mr. Handy there. There you will find Scout Leader Jaggy, who will provide you with the Order of the Tadpole questline.
This Order contains four different tasks in which you are required to complete a Boy Scout-inspired task that will improve the Appalachian wasteland. We'll be discussing each part to make things more obvious to you.
Kindness: In this part, you are required to revive a fallen player with a stim-pack. You'll need to group up with a buddy or stranger and help them when they are down and then make them do the same thing for you. To speed up the task, simply jump off a cliff.
Bravery: This section of the quest is a simple and straightforward fetch quest. You are simply required to get Bloat fly Gland, Tick Blood Sac, Sting wing Barb, Reproach Meat, and Blood bug Proboscis, and that's all for this part.
Helpfulness: This section of the quest is a simple and straightforward fetch quest. You are simply required to pick up five toxic mutagenic wastes and place them in the containment barrel at the Kiddie Corner cabins.
Growth: This part of the quest line is most challenging and time-consuming. In order to demonstrate growth, you are required to earn three Pioneer Badges. For this purpose, you'll need to complete the challenges shown throughout the map. You can access these challenges collectively in the main menu by clicking on challenges and then the World tab. Each challenge comes with multiple parts, with some of them being easier than others, whereas each of them is as time-consuming as the next.
Recommendation: You are recommended to choose that part of the demonstration that you think suits best for your skill, and you can complete that task in a single attempt. We recommend you to go for Archer, Athlete, and Swimmer first as they are a bit easier.
Although these Tadpole challenges are tedious in time but are simple in nature, you'll be required to craft items, kill enemies, beat timed goals, fetch loot, and/or use these tools to complete subsequent other tasks.
Pop Quiz
Before taking any Tadpole challenge, you are first required to pass a knowledge exam for each task before you start it. These exams are taken at the terminal in a remote location in the foothills northeast of the Nuka-Cola plant known as Camp Adam.
You'll be asked five questions, and you'll, monkey don't speak, need to answer them all right in order to get to the challenge.
The question may vary in each exam attempt as they are randomly selected from a larger pool. Whereas, you can retake the exam as many times as you want, luckily.
Tip for exams: These exams are not based on Fallout 76 information; in fact, you'll be asked about real-life details. Google will be your best buddy in passing all exams unless you're already a skilled entomologist or Eagle Scout.
You got the backpack …!!!
Once you are done with the three world challenges you were required to complete, head to the scout leader you have come across along your journey to receive your reward of Possum rank and mainly your first backpack.
As I have mentioned above, that backpack is valuable in Fallout 76 because it helps you increase the carry weight. The level 1 backpack you'll receive first will add 10 points, scaling up to the level 50 sack adding up to 60 extra carry weight points.
Considerations
The backpack will be visible over your outfit and armor.
While entering the set of Power Armor, your backpack will remain unequipped.
Adding utility mods to your inventory will reduce the carrying capacity of your backpack.
The 'Keep out Box' backpack in the atomic store is not a backpack itself, although it works as a skin for a standard backpack.
Wrapping it
So this is all for the guide. We hope this article will've helped you in some way and make you understand the steps clearly. We have tried to make each step evident and easy for you. Do let us know your thoughts on this guide in the comments section below.
We wish you the best of luck with your gaming experience in Fallout 76 as a beginner.