Trekking hiking pole or hiking pole is one of the first and foremost things a hiker and adventurer need for their hike.
Hiking poles are the available hiking equipment that helps hikers in many hiking activities, i.e. crossing rivers, probing mud depth, and moving wet brush out of the way.
People swear that these hiking poles ease them by saving energy and providing support to balance their weight on mountains during the hike. This trekking pole prevents you from falling while walking with snowshoes.
Some of the hiking poles come with foldability features that allow the How to attach a Hiking Pole to a Backpack to telescope down to a manageable length; hiking poles are easy to carry, and you can keep them in your backpack when not in use.
But some hiking poles don't possess this feature and becomes a burden for you when you are not using them, and you will have to hold them for the rest of your hikze.
But there's a solution to this problem as well. You can attach your hiking pole to your backpack by following some steps.
We have brought to you a complete and definite guide in which we have compiled all the possible ways you can use to attach your hiking pole to your backpack.
Most of the backpacks have additional connecting points. You can make those points useful for your concerns in different ways.
Let's look at all the possible steps you can take for this purpose.
See Also: Best Guide for Measuring Backpack Torso Size
Methods for How to attach a Hiking Pole to a Backpack
1- Using attachment points on the backpack:
Nowadays, a backpack available in the market somewhere has specific attaching points, just like a closed loop that can be loosened or cinch tight.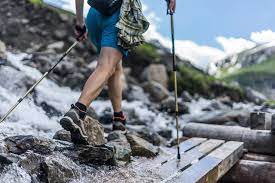 All you have to do in this method is to relieve the cinch, cross your hiking pole through the loop pointing up towards the top of your backpack, and pull the cinch tight.
If you such kind of backpack that features such type of attaching points, then follows the following steps to secure your hiking pole:
Place your hiking pole alongside your backpack with its handle pointing towards the top of your backpack.
Tighten the loop around your hiking pole.
Now attach the lower part of your hiking pole to the lower loop of your backpack. This will ensure that your trekking hiking pole will not fall.
Now press your trekking hiking pole to check whether it is fixed or not.
For extra safety, tie down the strap of your backpack across the hiking pole that will hold it in place.
Follow the same approach to attach another hiking pole (if you have one).
2- Using side pockets of your backpack:
This approach can be helpful for those whose backpack doesn't feature any straps or loops to hold their trekking hiking poles.
Almost every backpack must have meshed side pockets with a compression strap hanging alongside. If your backpack doesn't have any loops and straps, this method is for you. You can get your hiking poles attached to your backpack by following these steps:
Push your trekking hiking pole in the side pocket of your backpack.
Pull the compression strap around your trekking hiking pole and tie down the strap tightly to ensure that your hiking pole is secure.
Fix the hiking pole with your backpack so that it might not fall.
3- Using compression straps
If you have a backpack with no side pocket but do possess compression straps, you can still attach your hiking pole to your backpack without outsourcing any additional strap.
These straps can be anywhere on your backpack either than the sides of your backpack. You can attach your hiking pole to your backpack by following these steps:
You can use your backpack's compression strap and shots for this method. Shots are the points that allow you to attach a compression strap at any location of your backpack. Locate those shots first.
Lose the compression strap and pass your hiking pole through the strap.
Tie the straps around the hiking pole to ensure that the hiking pole is secured.
Note: This method is helpful for those whose trekking hiking poles cannot reduce to a suitable size. This method is only applicable if your trekking hiking poles have a basket on them because some trekking hiking poles don't have a basket on them.
4- Using top of the backpack to attach hiking pole:
This method is a lifesaver for those people whose backpacks don't possess any additional supporting features, i.e. compression strap, side pockets, or any attachment point. The solution is to put your trekking hiking pole on the top of your backpack and tie it down in place.
If you are carrying a huge backpack on your hike, then you can follow the following approach to apply this method:
Put your hiking pole horizontally on the top of your backpack at the place of the large compartment of your backpack.
Now close the backpack's lid tightly and set the hiking pole in place.
Note: This method is only helpful if you are hiking in an open landscape. Otherwise, this can cause a little crossbar across your back.
Some of the backpacks don't have the top tie-down lid or strap, then there's only one option left behind to attach your hiking pole to your backpack, and that is to secure your hiking pole to the body of your backpack.
Lay your hiking poles alongside your backpack in such a way that their handles point downwards.
Zip-out the backpack from the opposite side and close it.
The points should stick out on the top of the backpack.
Precaution: If you are using this approach, then be careful while you turn around as it may harm your hiking partner's eyes.
Some additional tips on packing hiking poles to your backpack
If you are carrying your trekking hiking poles separately from your luggage, there is a big chance that you may lose them. Moreover, they will also cause discomfort to you during your travel. So try to pack your hiking pole with the rest of your luggage.
If you are buying a trekking hiking pole, try to get your hands on the one that telescopes down and can be kept in your backpack. During your travel, this will help you with those airlines that don't allow hiking poles in the cabin baggage.
If you are travelling by train, try to keep them attached to the backpack you hold with you. This will keep your hiking pole safe from being stolen or damaged.
Wrong ways to attach hiking poles to a backpack that must be avoided
Make sure that your hiking poles are attached to your backpack. Avoid connecting them separately. There is more chance of losing them.
The top of the backpack attaching approach should only be used when there is no option left behind as this causes imbalance on mountains during your hike.
Try to use compression straps and cinch able loops to attach your hiking poles to your backpack. Don't go for any other option if you have them.
After tying the hiking poles, make sure to adjust them properly. If you don't do so, this may cause soreness and ache in muscles and joints. So, adjust the hiking poles in a balanced way.
Wrapping up
Hiking poles are the primary tool of your hiking adventure that helps you walk at ease.
This article was all about "How to attach a Hiking Pole to a Backpack?" We hope this guide has helped you learn the way of attaching your hiking pole to your backpack and have enabled you to do it efficiently.
We have mentioned all possible ways that you can use to manage your hiking poles, and will offer you more ease in hiking without any worries and let your hands-free to take pictures of the beautiful scenery of nature.