As a matter of fact, different travelers have different destinations, different challenges to face, and indeed different needs. So, for every situation, there must be a right complementary bag to provide you with the best travel experience.
Although the type of luggage you bring, solely depends on your preferences and the comfort level which you want to enjoy. But believe me, there are other factors to consider before spending on your favorite bag.
One thing to keep in mind is that every trip demands different gears, and hence every travel path is suitable for some specific luggage. Sometimes, it's better to have one type than the other.
No doubt, some destinations are great for any type of luggage, but others are there which won't fit with all. Some trips call to bring Suitcases with you, but others are comfortable with Duffle bags.
When it comes to choosing "Duffle Bag vs Suitcase", almost all stop for a while to think twice before making a firm choice. Do you know which one will suit you best for your next trip?
Probably Not! That's why we are here. We have designed this guide to teach you well which one will best fit your needs, a suitcase or a duffle bag.
Moreover, considering all the factors in mind we also reviewed some high-end suitcases and duffle bag models, so you can grab one after knowing your exact needs.
Let's find the exact bag match for your next travel!
See Also: How to Pack an External Frame Backpack? 7 Helpful Steps!
Duffle Bag vs Suitcase – Which one is good for your next travel?
What you choose to carry luggage solely depends on the personal preferences and level of comfort which you want to enjoy. But sometimes one type of bag is more useful than the other.
Practically, both suitcase and duffle bag has their own uses. If you don't know which type is going to be perfect for your next trip, then we're here to guide you. You must keep in mind the following things before making a firm choice.
1- Transportation:
If you're aiming to ride cars throughout the travel time, then a suitcase might not be a problem. But if you don't owe any private transport and aim to getting on and off trains, buses, bikes, we recommend you to go for a duffel bag as you'll find it more convenient.
Infrastructure: If you have a plan to go somewhere with smooth roads, sidewalks, and your hotel is also equipped with elevators, then a suitcase will be a perfect choice for you.
But if your way to traveling is full of dirt, brick, and building with no elevators, a duffel bag is going to be your deal.
2- Ease of carrying:
Well, if you got a place to keep your things, then either suitcase or duffel bag can do the trick for you. But if you need to carry all your belongings with you, then consider that how exhausted you would be walking around with your luggage. A duffle bag is far more difficult to carry than a suitcase.
3- Safety of belongings:
Most of the suitcases these days come with hard-shell, so you can expect to keep your stuff safe in them and less prone to external stress.
But the duffle bags mostly carved using flexible cloth-type materials, so you can't carry your sensitive stuff in them.
4- Security Concerns:
Well, if you are going to cross crowded places, there will be higher chances of getting robbed. As the duffle bags aren't so secure, so never go for them.
However, you can consider suitcases in this case, as they got sturdy zippers, built-in locks, and many other security features.
5- Personal Preferences:
Your personal choice and your physical state are the direct determinants of what can suit you best. If you have a spinal injury, back pain, or painful muscles, then never go for a duffel bag.
Top 3 Best Suitcases:-
Here is our list of the "Best Suitcases" on the market, all designed with lots of amazing features:
1- Samsonite Omni PC Hardside Expandable Luggage
To be on clear ground, Samsonite Omni PC Luggage is a hard side case made of industrial-grade polycarbonate to add more strength and durability keeping it moderately lightweight.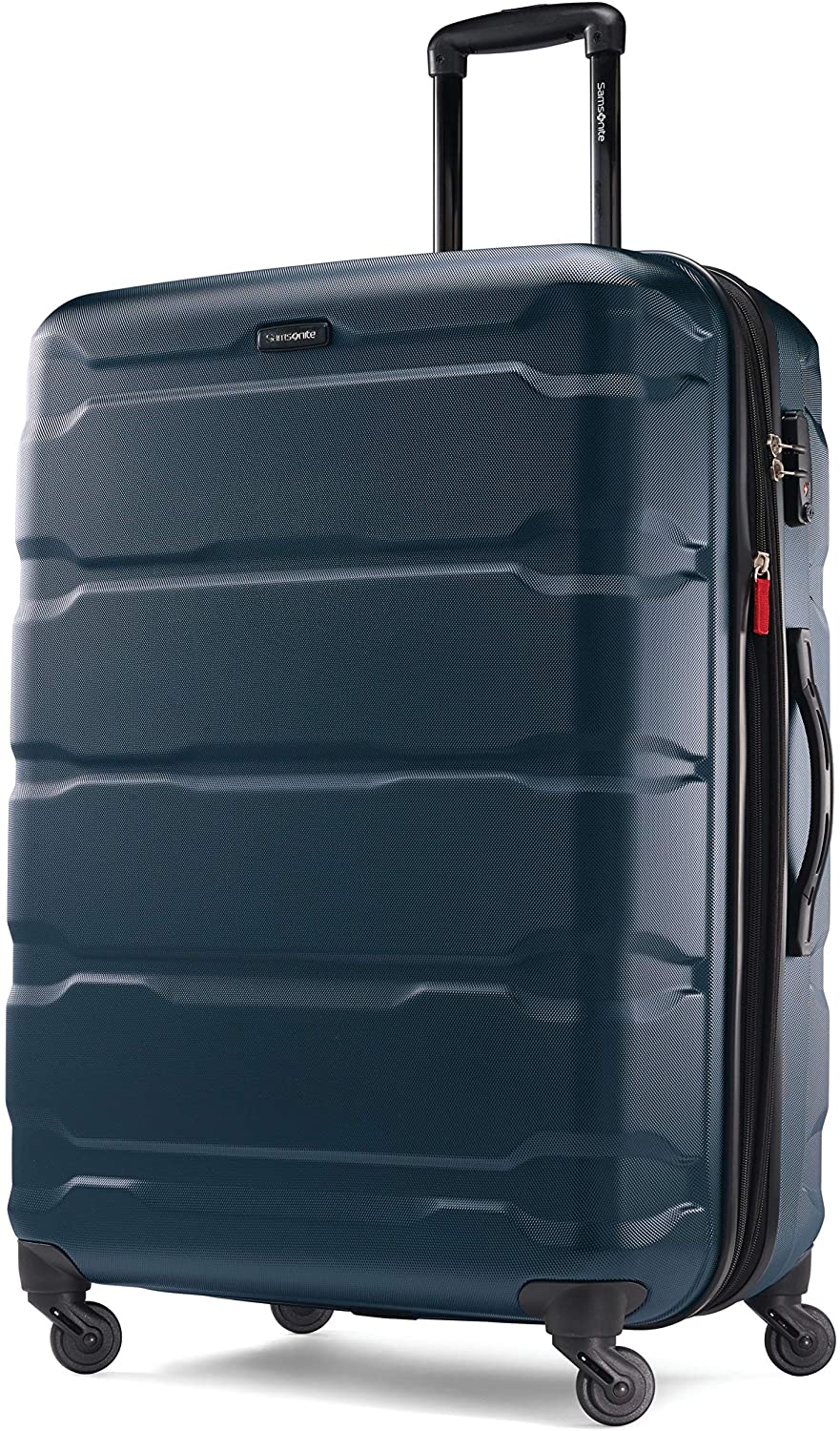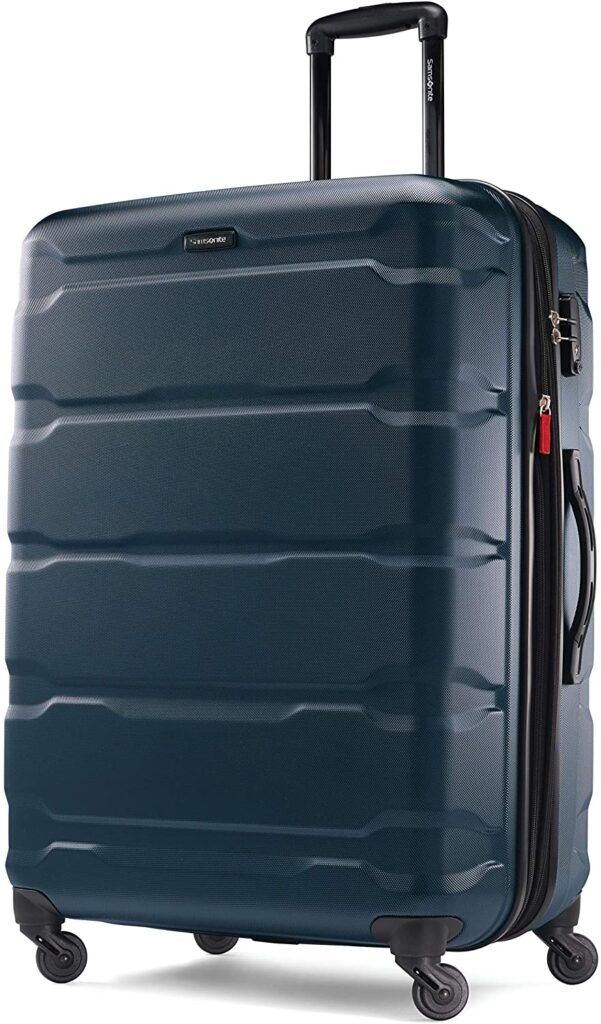 The specially designed case ensures the safety of your belongings. No more heavy luggage for your next trip!
For high-end security, it comes with an integrated locking system. Actually, the TSA compatible combination code lock is mounted on the side to keep your suitcase more secure throughout the travel.
The most stunning feature of Samsonite Omni PC Luggage is the incorporated four multi-dimensional spinner wheels.
They are engineered in a way that they can effectively roll in all directions. We found it almost effortless to move this suitcase.
Another good thing about Samsonite Omni luggage is that it comes with clamshell-style packing-which is highly secure and convenient.
The side below the lid is a zipped net to keep your sensitive things fully organized. Whilst the other side is secured with an elastic band.
Everyone wants the perfect packing and full organization of items. So, to accomplish this need Samsonite Omni introduced a full-zip interior, cross straps, and dividers.
And the 2-inches expandable zippers allow you to generate additional capacity in an hour of need.
You will love the feature that impact resistant body can flex under stress, but it regains its original position very quickly.
Above all, the micro-diamond texture on this suitcase is extremely scratch-resistant and hence helps to keep the suitcase fresh even after mishandling at airports and very long trips.
| | |
| --- | --- |
| Item Weight | 10.35 Pounds |
| Item Dimension | 13.5 x 21.5 x 23.5 inches |
| Material | Polycarbonate |
---
2- Samsonite Winfield 3 DLX Expandable Luggage
Grounded in fact, Samsonite Winfield 3 DLX isn't only featuring professional design but is also multi-functional to do the trick for you.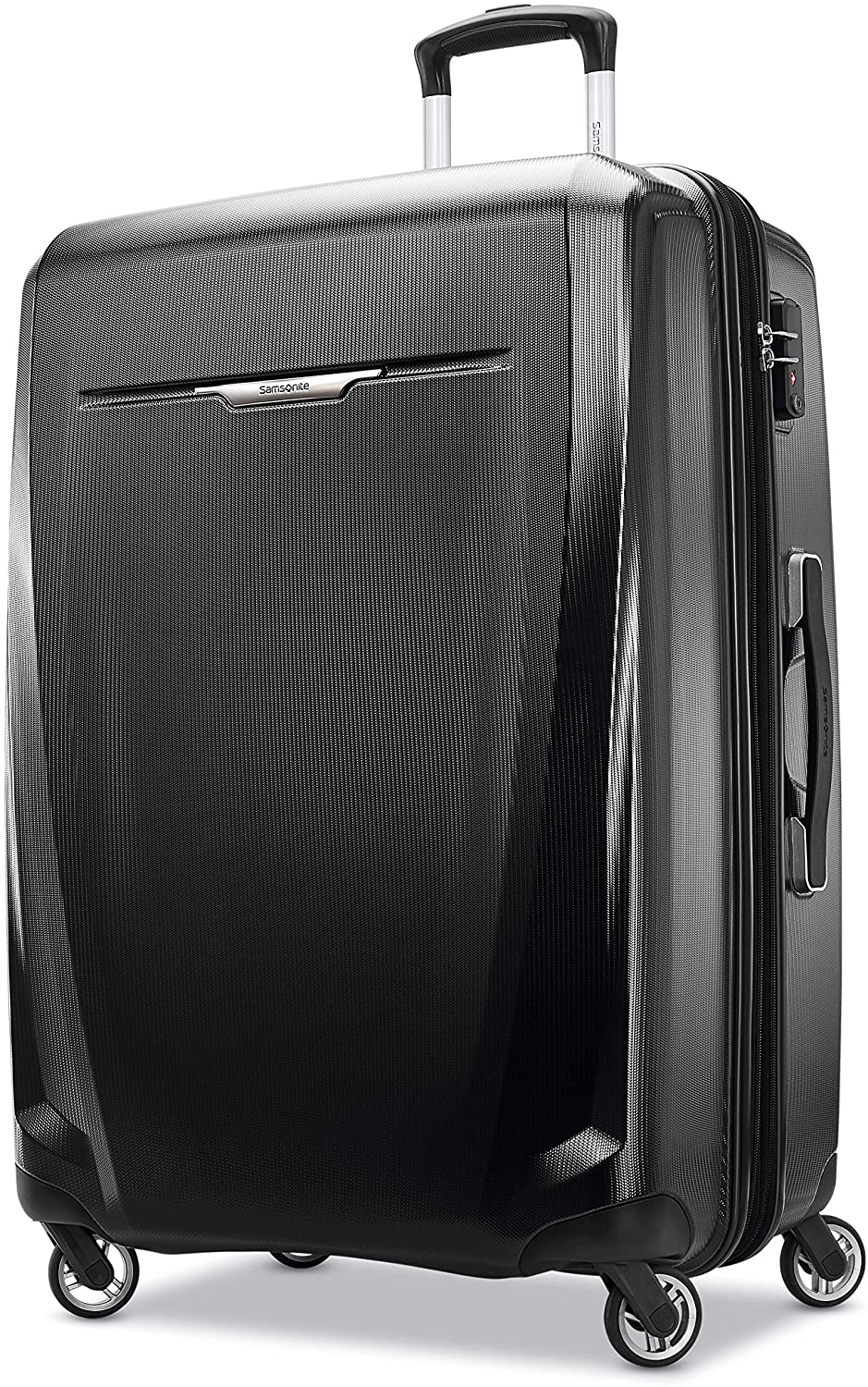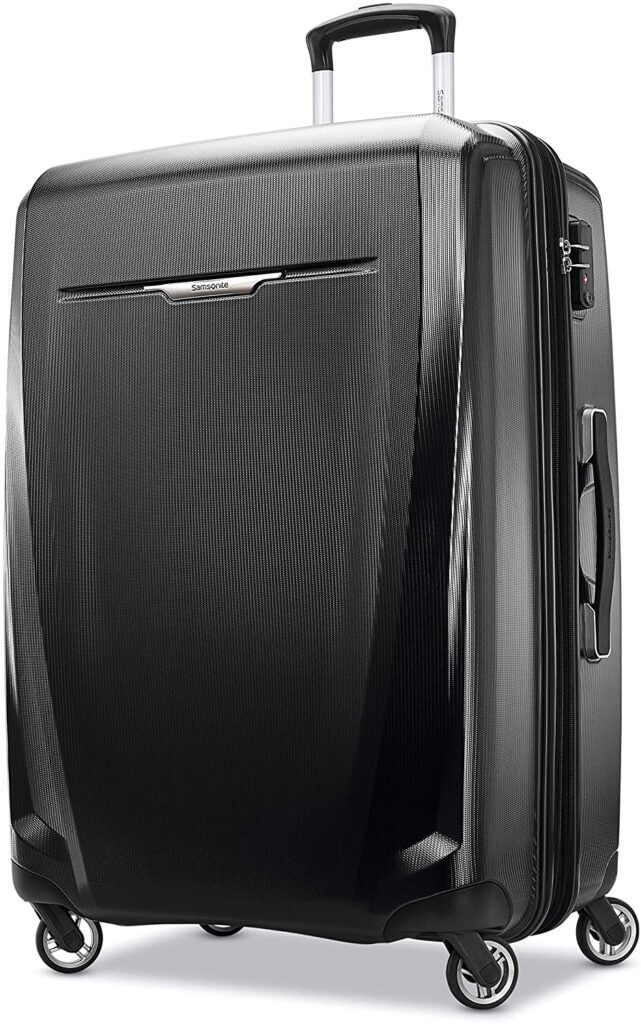 Ahead of the curve, this hard-sided luggage comes with a push-button handle that incorporates a soft rubber seal to cushion your hand while maneuvering the suitcase.
To make your luggage more secure, the TSA combination lock is mounted on the side. We find this security feature completely hassle-free as we don't need a key to open or lock our suitcase.
The main concerning point for almost all luggage users is the poor-quality zippers as no lock can make them secure. But Samsonite Winfield 3 DLX resolved this issue by providing a sturdy zipper to give you extra peace of mind.
As far the movement is concerned, this suitcase is equipped with 360-degrees spinner wheels. This feature is so handy that you don't need to turn the wheels to change the direction, rather just push the suitcase and the wheels will automatically adjust the direction that you take.
The inside of this suitcase is spacious enough to fit your clothes, along with the other necessities. And the internal cross elastic straps are provided to keep your stuff in place.
To ensure organized packing, four zipped pockets are provided on the inside along with the two-sided divider panel to let you make good use of available space.
We find meshed zipped pocket quite excellent to hold the lightweight stuff.
Moreover, you can make better use of an expandable zipper to hold your stuff when you find it difficult to place in the provided primary space.
| | |
| --- | --- |
| Item Weight | 10.96 Pounds |
| Item Dimension | 12.75 x 20 x 31 inches |
| Material | Polycarbonate |
---
3- American Tourister Stratum XLT Luggage
Out in the open, American Tourister Stratum XLT Suitcase is carved using ABS plastic which is durable and rugged enough to withstand bumps and knocks of air travel. But remember this plastic isn't as tough as polycarbonate.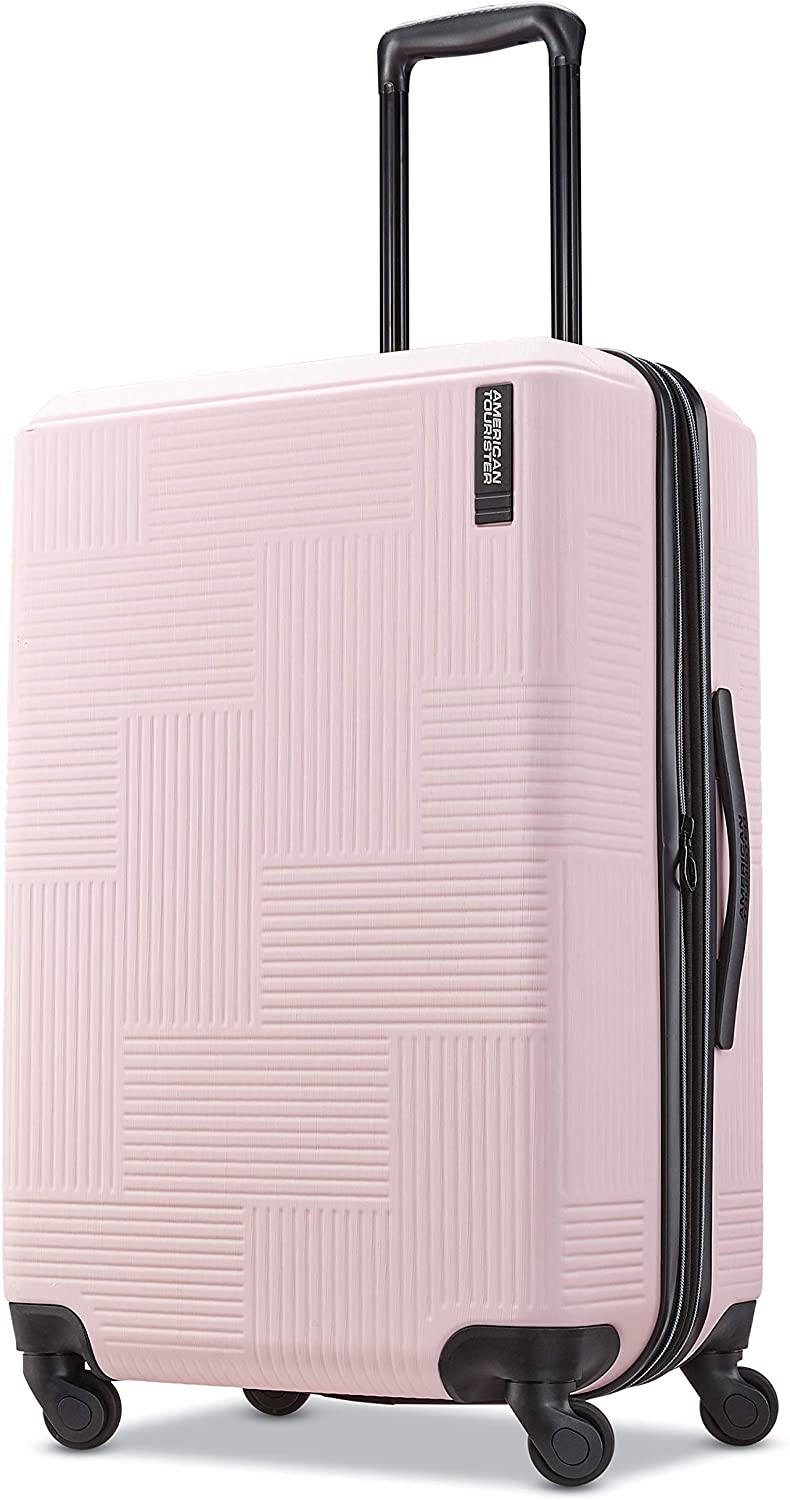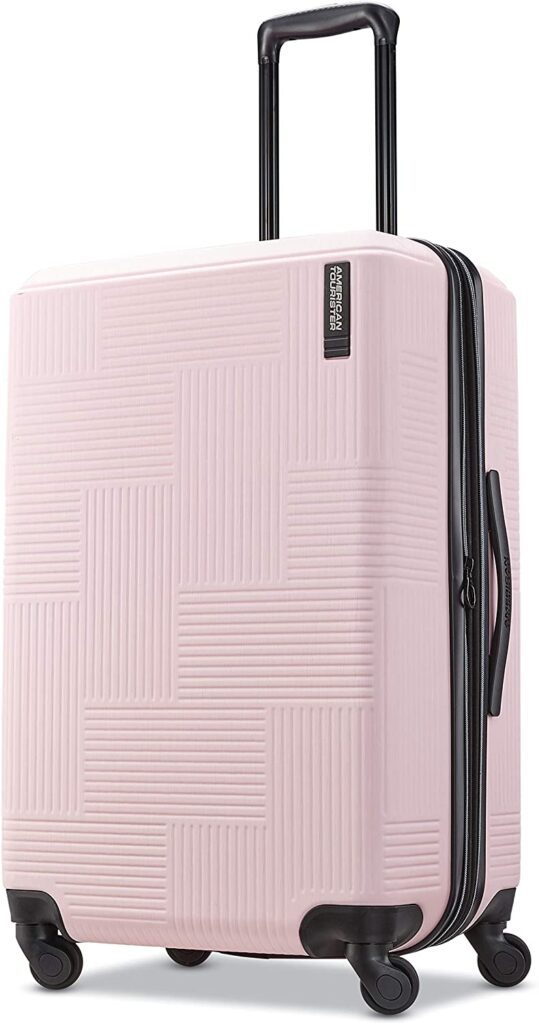 On the other hand, the good thing about ABS plastic is that it's very lightweight, so you don't need to carry heavier bags anymore.
Stunningly, I used this bag for more than 10 air travels, and it still looks brand new. So, you can expect a fresh experience each time due to the scratch-resistant surface.
When it comes to packing, American Tourister Stratum XLT Suitcase has two large packing compartments. Of which one features an elastic cross-straps and a zipped pocket, whilst the other has a full panel zippered divider to provide you with the best of both worlds.
Like almost all travelers, if you're also conscious about capacity, this suitcase is going to amaze you. Besides providing large storage capacity, Stratum XLT also allows you to expand the storage space to skillfully adjust your all belongings.
Furthermore, American Tourister Stratum XLT incorporates four single spinner wheels, which are excellent enough to glide quietly and smoothly.
To provide better maneuvering, this suitcase incorporates a telescopic wheel handle to ensure tireless travel. Plus, the side and top grab handle allow you to easily pick up your luggage without any fuss.
Interestingly, you can lock the wheel handle at multiple selected height positions, so you can easily adjust it according to your height.
The good news is this suitcase comes with an additional expansion capability to equip you with extra inches of storage capacity to hold more of your belongings.
| | |
| --- | --- |
| Item Weight | 7.4 Pounds |
| Item Dimension | 11 x 15.8 x 24 inches |
| Material | ABS Plastic |
---
Top 3 Best Duffle Bags:-
Here is our list of the "Best Duffle Bags" on the market, all designed with lots of amazing features:
1- Trailmaker 55 Liter Canvas Duffle Bag
Rooted in, Trailmaker Duffle Bag comes with an attractive storage capacity of 55 Liter to do the trick for you. Moreover, it's designed in a way to suit the style of both men and women.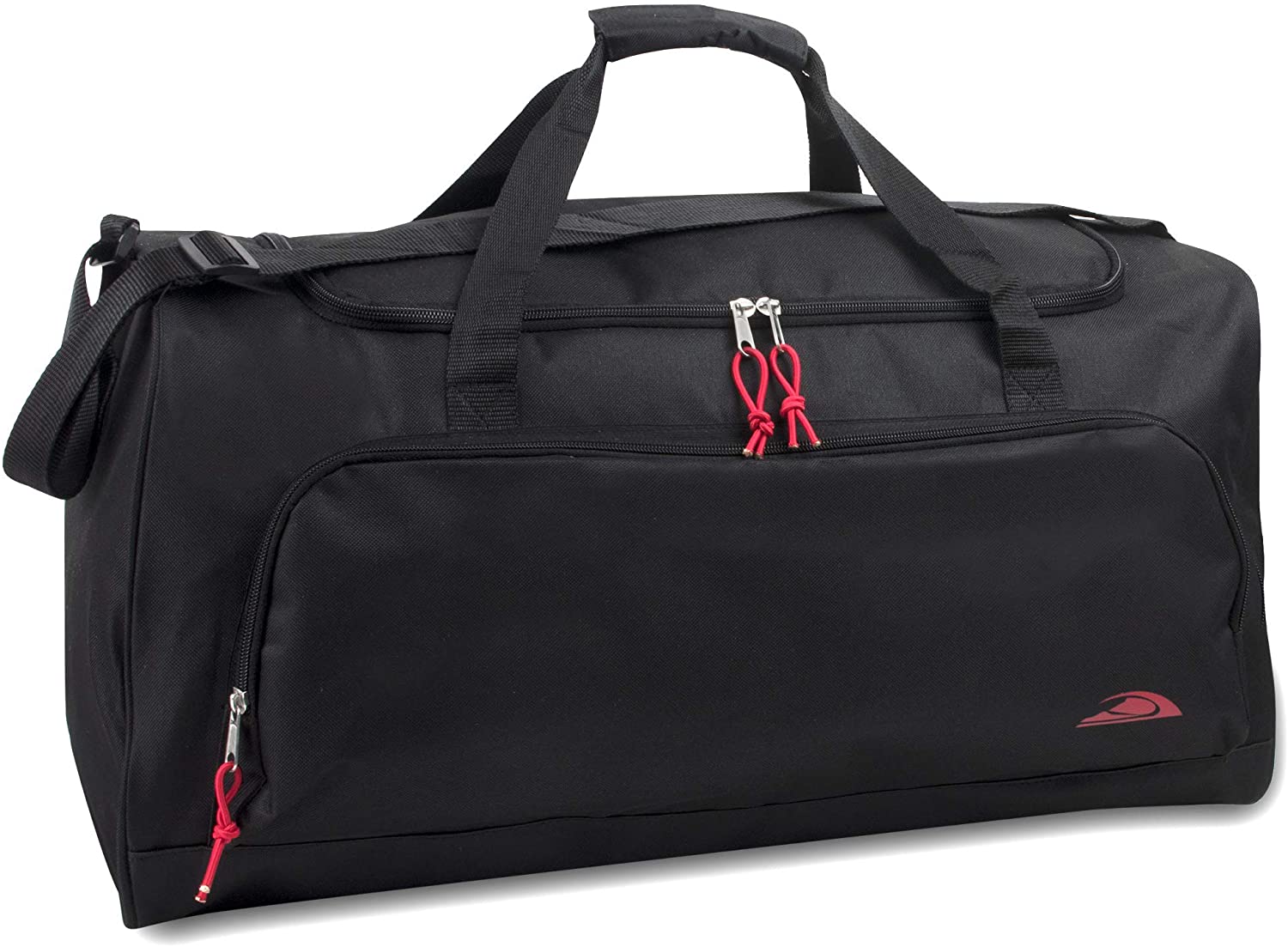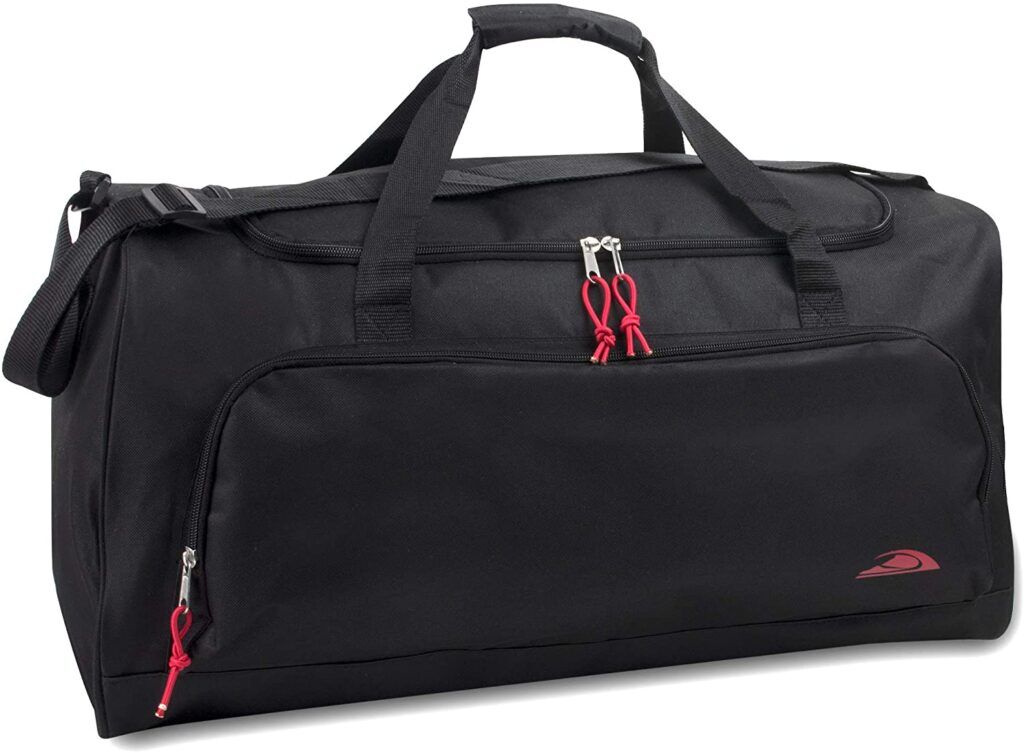 The good thing about this Duffle Bag is that it incorporates Velcro, detachable handle straps which have a padded surface at the carrying point to let you take it anywhere at any time.
Plus, a shoulder strap is also provided to assist you in carrying heavyweights.
People are loving this model as it can be used as a GYM kit bag to perfectly carry your sports items, yoga mat, shoes, dirty laundry, and even some toiletries.
Having this bag with you means you never be out of space to place your essential belongings on the go.
The feature which we liked the most is the foldable nature of this bag, so we find it extremely easy to place it anywhere or even in the luggage bag.
And the lightweight design adds flare to the existing compressed portable nature.
The good news is that you can pack in your suitcase for any trip or adventure, then use it to carry your necessities anywhere.
When it comes to packing, the interior of this Duffle Bag is spacy enough to fit in your wearing or clothes, reading material, and almost all other essentials.
The main compartment is equipped with double zippers to let you open it with ease and to secure your belongings from thieves.
To hold you easy to access stuff, a roomy outer pocket is also provided where you consider placing your passport, cash, card, mobile phones, snacks, keys, and much more.
| | |
| --- | --- |
| Item Weight | 1.47 Pounds |
| Item Dimension | 13.58 x 12.48 x 2.17 inches |
| Material | Canvas |
---
2- Under Armour Adult Undeniable Duffle Bag
To tread carefully, Armour Adult Undeniable Duffle Bag is carved using incredibly durable material and kept lightweight to make it a perfect go-to bag for everyday performance.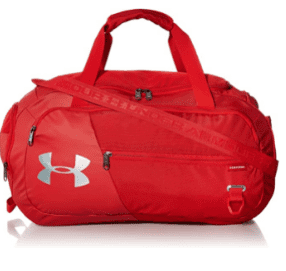 When it comes to design, this bag looks more attractive than the similarly priced competitors. And the Armour branding is done on the exterior to add some flare to the existing design.
The most stunning feature of this Duffle bag is that its wind and water protected with US Storm technology. This water-resistant finish is excellent to keep your bag dry in any wet conditions. Moreover, to make it more durable, the side and bottom panels are kept abrasion-resistant.
When it comes to packing, Armour Adult Undeniable Duffle Bag comes with a large vented pocket to hold your laundry, shoes, and any other clothing. Whilst the internal slip pockets along with the mesh pocket help you to fully organize your belongings.
To ensure effortless carry, this bag incorporates both a top handle and shoulder strap. Stunningly, the shoulder strap comes with padded heat gear which is completely removable to assist you in an hour of need. Plus, the top handle is also padded which ensures smooth, tireless carry.
Stunningly, two large front zipped pockets are superb to hold your easy-to-access items. We used them to place our passports, phone, tickets, and keys.
Moreover, a D-ring is added to let you attach any gear on the exterior. What else you can expect in this price range?
| | |
| --- | --- |
| Item Weight | 1.46 Pounds |
| Item Dimension | 29.5 x 14 x 14.6 inches |
| Material | 84% Polyester, 16% Elastin |
---
3- Nike Jordan Jumpman Sports Elemental Duffel Bag
To get your act together, Nike Jordan Jumpman Duffel Bag is specifically designed to offer you a brand-new style. It's carved using poly material which is durable enough to keep this bag with you for decades.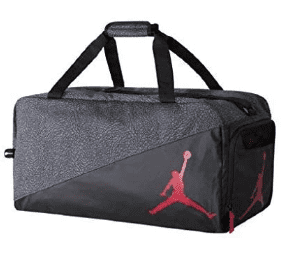 The main compartment of this bag has ample storage space to hold your clothes, shoes, and any other such belongings in a safer way.
A sturdy double zipper is added to this compartment to let you handle it even with one hand.
We find that the provided 34-liters of storage capacity is enough to hold your necessities, but don't expect to put too much stuff in it. But you can easily store all your gear for an overnight trip or workout session.
The most stunning feature of the Nike Jordan Jumpman Duffel Bag is the specially designed shoe garage, which allows you to keep clean and dirty items separately.
Ahead of the curve, this Duffel Bag comes with two handle straps which are incorporated in a way to keep the weight perfectly balanced. And a removable padded surface is added to the handle to ensure comfy carry.
For better organization, an interior zipped pocket is there to hold your keys, wallet, and other such things. Moreover, the provided side pocket is also zippered to keep your essentials safe.
| | |
| --- | --- |
| Item Weight | 2 Pounds |
| Item Dimension | 23.5 x 11.83 x 11 inches |
| Material | Poly material |
Features must be there in your Suitcase – A Nifty Buying Guide!
Out in the open, now you have gone through some of the suitcases' reviews which we discussed above. Now, you must have an idea that which suitcase is looking attractive for your needs.
But if you're still confused and are in search of proper guidance, don't worry we are here. Well, you must consider the following features before making a firm choice.
Size of your suitcase
On the clear ground, you must think twice before selecting the size of your suitcase. You can select the size of the suitcase depending on the items which you're going to place. Keep the following things in mind before grabbing the right-sized suitcase.
A suitcase can hold more stuff than the mentioned storage capacity.
Check the airline requirements and choose the suitcase size accordingly.
Never forget to keep your budget in mind.
Hard-shell or soft-shell suitcase?
To be clear, hard-shell suitcases can keep their rigid shape, so you can expect better protection of your belongings. But you can't put extra stuff as they're not flexible, they could be cracked if mishandled.
On the other hand, soft shell suitcases can be compressed or expanded as per your need. But as they are carved using fabric, so they are more prone to ripping, tearing, and can catch stains as most aren't waterproof.
Wheels
Most of the suitcases have either 2 or 4 wheels, you can choose one depending on your maneuvering style and ease of travel. These, days suitcases with 4 or 8 spinner wheels are taking the heart of users due to the multiple directions they can opt for.
Handle
Rooted in, handle in another thing which determines the ease of use. Try to grab a suitcase that comes with a sturdy handle and can be adjusted at different positions to better suit your height. Moreover, side and top carry handles must be there for easy transport.
Security
This is the most significant feature which you can't ignore. Try to go for a suitcase which got a sturdy zipper and also comes with an external TSA locking system.
How to Choose a Duffle Bag?
As we know that duffle bag is a great alternative to the travel backpack. People love them because of their flexible storage capacity and ease of carrying.
But if you don't know what features must be there in your duffle bag, try to look for the below-mentioned features in your favorite duffle bag.
Storage Capacity
Like many other items, duffle bags also come in three sizes, small, medium, and large.
Small: 25-50 Liters – This size suits best for overnight and weekends trips, where you don't need to pack much gear.
Medium: 50-75 Liters – If you don't need to pack bulky outdoor gears, this capacity range will suit you best. You will find them good for one or more weeks trip.
Large: 75 Liters – This size suits best for any long trips or for a group of people who are going for travel. You can expect to pack almost all of your traveling gears in it.
Carry Handles
Almost all the duffle bags come with a carry handle of some sort. You must look for the handle that must allow convenient carry. For this, we recommend you go for padded handles. And if you got a removable padded handle, that will be an ideal choice.
Water-Resistant Body
The main concern about the duffle bags is their waterproof nature. Well, most of the duffle bags don't have water-resistant nature. But some advanced models are now coming with this feature. So, try to grab such a model to keep your belongings safe.
Durability
The most significant thing to consider is durability. The material of your grabbed duffle bag must be durable enough to bear any wear and tears of travel time. Also, try to check the zipper quality, it must be sturdier.
Final Verdict
On the final note, every travel experience must be charmed with a compatible bag type. Most people are comfortable with suitcases, whilst others with duffle bags.
But the personal preference isn't the only thing to consider, you must go for the compatible bag for the travel time, destination, place to stay, and modes of travel.
So, Duffle Bag vs Suitcase, which one is good for your next travel. Till now, after reading this guide, hopefully, you've found the answer to this question.
Now it's time to grab one to enjoy your travel in a better way!