Skis are the primary tool and excellent piece of equipment for skiers. These are the must-haves that you should carry during your trip to a ski resort and especially for the hike (if you are planning for it).
Skis help a skier walk appropriately on snow-covered mountains and are the primary skiing tool.
But skis are not always in use when on terrain or hiking. If you are climbing a mountain for skiing and your skis are not in use during your walk towards starting point of skiing.
You will either be carrying them in your hands or on the backpack. Taking skis by hand would be uncomfortable for you during your hike. The best way to Carry your Skis on the Backpack(when not in use) is to tie them on your backpack expertly and walk comfortably.
Most people don't know the right way to Carry Skis on the Backpack, which leads them to sore spins and backache at the end of the day.
The position you are carrying your skis on your bag impacts your vertebrae and shoulders, so you should know the right approach to taking them.
To your good, we have mentioned all the possible and best ways to carry skis on a backpack like a pro. So, let's dive into the article without wasting a single second.
See Also: How to attach a Hiking Pole to a Backpack? 4 Helpful Method!
Why should you Carry Skis on the Backpack?
It's not every time you need to carry your skis on your backpack, but you'll need to do it when your skis are not in use, i.e., encountering steep terrain, hike-to terrain at a ski resort, dirt walking, boot packing, alpine climbing, rappelling, creek crossings, or rock hopping, etc.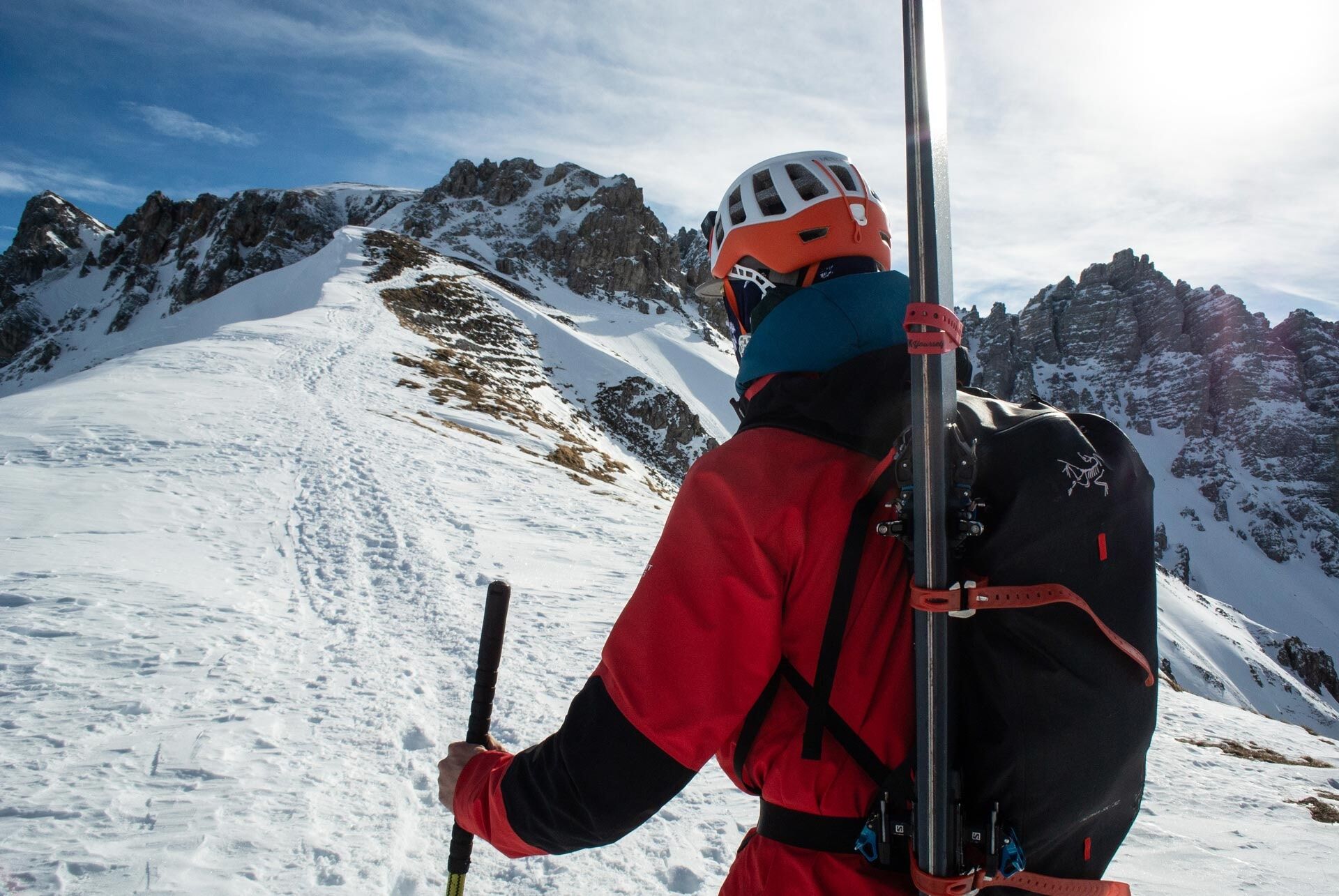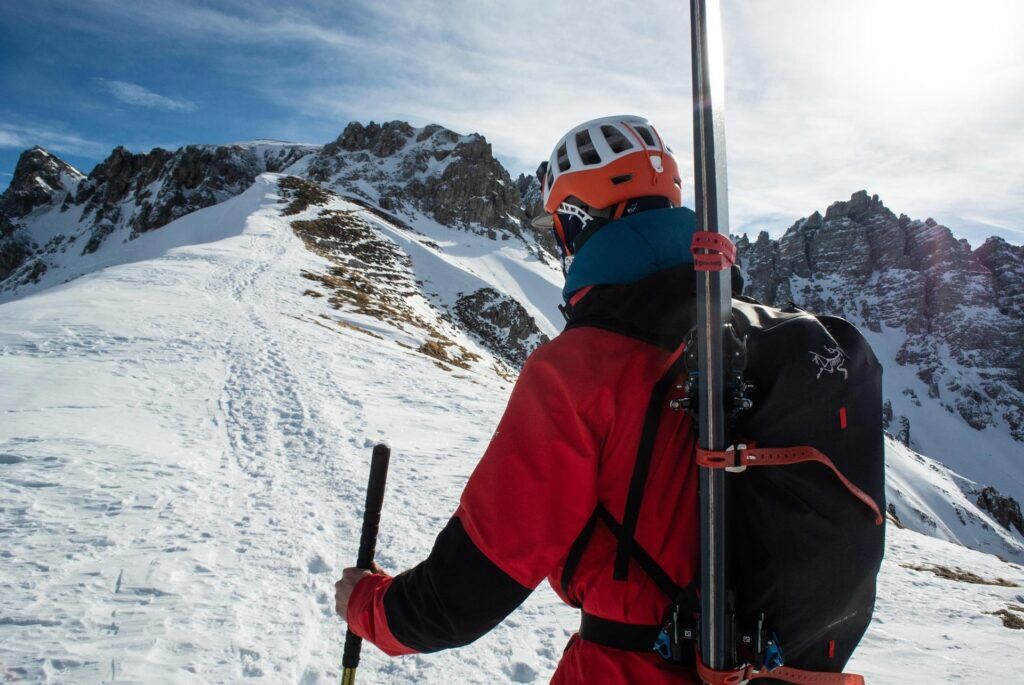 There are multiple situations where you need to carry your skis on your backpack. If you are a backcountry skier or a ski mountaineer, you'll need to climb up the slop free with your hands and feet.
Carrying skis on a backpack will ease your limbs and back so that you can better hike uphill to reach the peak. Carrying your gears on your back is much easier, especially when encountering steep terrain.
Ways to Carry Skis on the Backpack
There are multiple ways you can carry skis on a backpack; you can choose one according to your personal preferences and the type of backpack you are carrying.
We have mentioned the three most followed methods verified by experts – you can follow the one that seems more convenient to you.
1- The A-Frame method
This is basic and one of the most convenient carrying skis on a backpack. This is one of the most popular ways to attach skis to the backpack.
This method is considered convincible because it creates a tight, bombproof bundle that permits the load to be nearer to your pack, body, and center of gravity.
In this method, skis are positioned along your backpack length so that they will not be right behind your legs while walking and allow for more freedom off the ground if you are down climbing. In short, it is one of the most comfortable and reliable ways to carry skis.
Let's see how you can follow this method and make it worthwhile for yourself. By following these below-mentioned steps, you can get your skis attached to your backpack, and you are good to go for your hike.
Take your skis apart and align them on either side of your backpack. Now slide each ski through the compression strap of your backpack. Compression straps can either be tightened down or loosened up to fit gear inside.
Once you have put each of your skis through the strap, Get both skis equally placed on the pack and then tighten the strap securely. Ensure that the significant part of your skis is at the top so that it might not get tangled between your legs while you walk.
Now take the tips of the skis together and secure them by using a ski strap, bungee cord, or piece of rope. You can also go for a velcro ski strap, which is the easiest way, but the point is to hold the skis together so anything that will get it done will work.
This is an A-frame method, this will form an A-Frame shape along your backpack by holding the tips of skis together.
Lastly, re-check both straps and tighten them entirely to ensure the safety of your gear.
Now put your pack on, and you are good to go now.
Note: This method can only be helpful for those having a backpack with a compression strap. The one whose pack doesn't feature any kind of compression strap can go for alternate methods we have mentioned below.
2- The Diagonal Method
The diagonal skis carry method is one of the fastest ways you can get your skis attached to your pack. If you are in a hurry and getting late for your hike, then this method is for you.
All required in this method is a loop near the bottom of the pack and a loop on the upper side of the bag.
It's quick and straightforward to set up and is relatively better with a more modest pack and lighter weight.
The diagonal ski carry method allows more detailed access to sideboards/backboards/top boards. It makes bushwhacking somewhat simpler than A-Frame as you just have one highlight move.
The significant downfall of the diagonal carry method is that it sets the weight farther away from your body and center of mass, which can cause you to feel imbalanced.
By following these steps, you can set your skis diagonally on your backpack:
First, tie the middle of your skis using a ski strap, bungee cord, or piece of rope. This is an optional step, but this will hold your skis more tightly and securely.
Locate either those loops or straps on your backpack. They will be on the opposite side from one another on the backpack. It could either be two loops, two straps, or one loop and one strap.
Once you have located the loops or straps on your backpack, now place them on the end of your attached skis in the bottom loop and secure the other end in the top loop or strap.
Now tighten down both straps to hold the skis in place.
Now your skis are secured, put your pack on and haul towards the mountains.
3- The Shoulder carry method
One of the quick and most straightforward methods of all, the shoulder carry method, doesn't involve any different technique or effort.
This method is super-fast and convenient that you can do it without taking off your backpack. The only downfall of this method is that it will cause slight discomfort to your neck as a Dynafit toe lock will usually dig into your neck.
However, it is still adequate for short climbs or walks for about 10 minutes. It's best in the open landscape, but the skis can be angled to be less prominent.
You can get your skis attached along your shoulder by following these steps:
Put your backpack on your back.
Place your skis together and tie them as you have done in the Diagonal carry method.
Loosen your shoulder strap and create enough space between the strap and your pack depending upon the width of your skis.
Slide your skis through the space you have just created between the strap and your pack. This step is somewhat hard to do on your own, so we suggest asking for help from your hike partner.
Once you have passed skis through the strap, adjust them and tighten your shoulder strap securely to ensure skis are set in place.
You are good to go now.
Wrapping up
Hiking on a mountain all covered by snow is something challenging to do. But you can do it effectively if you are carrying your gear and load effectively.
This article is a complete and definitive guide on "How to effectively Carry Skis on the Backpack" All of the methods mentioned in this guide will help you to hike quickly and effectively uphill, no matter where your snow-filled adventures take you.
Do let us know how you find this article helpful in the comments section below.
Bon voyage…!!!