There are certain rules for carrying backpacks on board. There are different luggage policies of different airlines.
Some of them used to be lenient in the early times but now we don't have the chance to bypass them. Most backpacks are categorized as carry-on luggage if they fall within the size limit of an airline.
Although, there are limitations on the number of backpacks you can bring on a plane at once.
Rules for carrying backpacks in flight are getting stricter, therefore there's no exact answer for "Can I bring two backpacks on a plane"? However, you can bring two backpacks on a plane by following the policies set by different airlines.
In most cases, people are allowed to carry two bags on a plane following the two main categories. The first one is carry-on luggage, and the second one is a carry-on personal item.
For the first category, your backpack should meet the size dimensions of the airline you are traveling with and must fit in the overhead cabin.
Whereas, for your backpack to meet the rules set for carry-on personal items, it should be small enough to fit under your front seat.
Through my personal experience, I have been lucky to carry oversized bags on a plane without getting into any trouble.
Some of those days were my lucky days to evade the airport staff and crew members, but I would suggest to you people that depending upon luck is not a wise decision.
Because once I tried to get two oversized bags on a plane and end up leaving them cargo area as I was not allowed by the authority to take them on board.
It's always better to come prepared to save your time and luggage.
See Also: The 5 Best Backpacks for Amusement Parks in 2021
Key factors to consider Can I bring two backpacks on a plane
Before boarding a plane with two bags you must consider the following factors:
Rules for carry-on luggage.
Rules for carry-on personal items.
1- Rules for carry-on luggage
Before getting to the rules for carry-on luggage first understand which luggage is considered as carry-on luggage.
A piece of carry-on luggage is the one that is optimal to be carried inside the cabin of a plane. The space in the cabin is limited that's why there is some restriction on carrying size and the number of backpacks you can take along.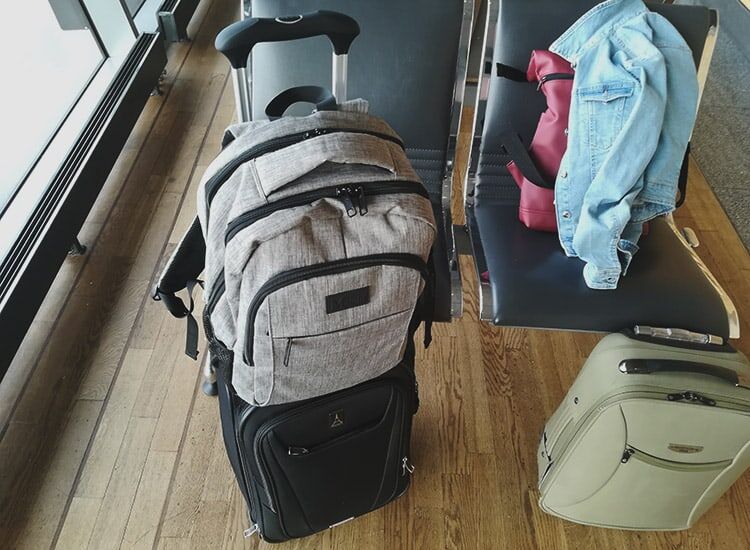 Although, criteria for carry-on luggage can vary from airline to airline. However, some of the rules are common among all airlines.
The first rule your backpack must fulfill is to fit in the overhead space given or the space under your front seat. However, the space provided in the overhead compartment is comparatively larger than the one under the front seat.
If you have two small bags you can easily fit them either in the overhead compartment or under the seat depending upon your will.
If one of your bags is large enough to fit in the overhead bin you have left no other option but to check in your bag in the cargo area.
2- Rules for carry-on personal items
Rules regarding personal items are not specified by some airlines. However, some airlines do have guidelines in terms of size and weight for carry-on personal items but these rules keep on changing frequently.
Most airlines don't publish rules on their website or passenger guide that's why many people bring oversized bags.
To avoid the inconvenience you must call the help center beforehand and ask them about the permissible size and weight you can bring on board.
The following articles are considered as carry-on personal items by most airlines:
Briefcase,
Laptop bag
Purse
Camera bag
Diaper bag
Small duffel bag
Ladies handbag
Tote bag
These items can fit under the seat conveniently. You can carry one of these items with you onboard but there are some limitations in regards to the size you must consider beforehand.
Make sure the size of the bag you are bringing with you must not so big to fit under the front seat. For example, if you are taking a laptop bag as a personal item make sure the backpack is not too large to fit beneath the seat. You must not try to fit the large item to accommodate the space as it will cause discomfort to you and your fellow passengers. You would have left no space for moving your legs easily.
If your item fails to fit under the front seat then it will not be considered as a carry-on personal item. You have to shift it in the overhead compartment as carry-on luggage.
If your overhead compartment is already occupied then you have no other option than to leave that bag for check-in in the cargo area.
3- Exceptional carry-ons
Carry-on exceptions are those items that do not fall in the category of either carry-on luggage and personal items.
There are many exceptional you are allowed to take on board with you. But some of the airlines do restrict exceptional items and don't allow passengers to carry these items on a plane.
Following are the items that are considered exceptional by almost every airline:
Clothes
Hats
Umbrellas
A pillow for personal use
Food for consumption
Child safety seats
Breast pump
Strollers and walkers
Besides these items, waist bags and small sling bags are also considered as carry-on exceptions. Shopping bags that you got from a duty-free shop at airports are also considered exceptional items.
Medications and medical devices also fall in the category of exceptional items. So you can carry a small bag full of your medicines and medical tools as an exception.
There are no rules specified for carrying exceptional items on board so there's a hustle whether the airline authority allows you to carry your exceptional items or not.
So here's an advice for you! Don't let your luck depend on the carry-on exception rule.
If you are doubting about it, get in touch with the airline directly and confirm the rules about carry-on exceptions if you are carrying one.
Tips to take two backpacks on a plane
It is possible to carry two backpacks inside the flight cabin if one of them is small enough to fulfill the personal item criterion.
A regular size laptop bag, purse, and handbag are considered personal items by almost all airlines.
If you plan to travel with two bags on board then you must keep an eye on the following tips. This will avoid any inconvenience while boarding the plane.
Always pack light.
Organize your items within the backpack in such a way that they look thin and small enough to fit in the overhead compartment with your carry-on luggage and the most constricted spaces.
Your item bag should be small enough to fit under the front seat.
Always keep your small bag beneath your front seat or the overhead cabin to avoid using another cabin for storage.
To avoid being suspected by the crew cabin or TSA personnel try to pack your bag as thin as possible.
In some cases, even your backpack fulfills the size dimensions of the airlines for personal items but still, you are challenged for traveling with two bags by TSA personnel and cabin crew. The best way to avoid this is to look small enough so you are not caught by the eye of the cabin crew.
Try to avoid arguing with cabin crew members, and don't try to explain luggage rules in front of them. You may end up missing your flight. The best option is to check in your bag in cargo.
If your larger backpack fits perfectly in the overhead bin then it is satisfying the size dimensions rules. The next step is to consider the weight of your carry-on luggage. It must not exceed the given limit.
Always try to board the plane earlier so that you can get overhead space of your choice before it is being occupied.
Lastly and the most important. Don't stretch your luck on the specified rules. Be an obedient passenger.
Note: Business class and luxury class passengers are sometimes allowed by the airlines to carry additional carry-on luggage on board.
Contrary to this, standard class and budget airlines allow only one carry-on luggage and some allow only one bag either carry-on luggage or personal item, and sometimes on carry-on luggage with a small personal item bag.
So you may be allowed to carry two bags on a plane in business class and only one bag in standard class depending upon the airline rules.
Conclusion
"Can I bring two bags on a plane?" Well, the answer is yes with some specifications and rules.
Yes, it is possible to carry two bags on board following rules specified by the airlines. But it is not guaranteed that you will always be allowed to travel with two bags on board.
However, in standard class flights, you are not allowed to carry more than one carry-on luggage. Some of the low-budget flights offer cheaper base fares with high costs for carry-on items.
The policies for luggage of the airlines are changing and becoming stricter day by day. It is not guaranteed that the rules today may be followed even tomorrow. If you are a frequent traveler you must stay updated.
It is better to stay prepared rather than stretching your luck over luggage policies.
The best way is to stay as small and organized as possible. The more discrete your backpack is the less it is subjected to draw the attention of crew members and TSA personnel. Stick to rules as much as possible.
In this article, I have tried to cover every aspect of carrying bags on a plane.
I hope you find this article helpful.