There's nothing like the rush of adrenaline that comes with starting on a Bushcraft backpack excursion to put your survival abilities to the test.
Before you set out into the woods, you should double-check that you have everything you need. When you're thousands of miles away from town, there's no way to go back and collect anything you've misplaced or forgotten.
The equipment you bring with you is what you'll rely on when you need life-saving materials and tools to get through the day securely and pleasantly.
Your survival kit should have the equipment you'll need to stay alive in the face of the weather, find and prepare your food, and offer first aid or other emergency necessities if you become injured or require rescue assistance.
Do you enjoy participating in outdoor activities? If you do, you understand the value of having a large backpack to accommodate all of your belongings. When you're out in the field, having a sturdy backpack is essential for keeping your stuff organized and secure.
Fortunately, several excellent backpacks are available on the market to accommodate all of your requirements. To help you choose the finest Bushcraft Backpack for your needs, we've compiled a list of the greatest options available on the market.
See Also: Best Hiking Backpack for Petite Female in 2021
Our top 5 Picks for the Best Bushcraft backpack
Direct Action Dragon Egg Tactical Backpack
Military Rucksack Alice Pack Army Backpack
MOUNTAINTOP Hiking Backpack
GEARONIC TM 21L Vintage Canvas Backpack
NOOLA Tactical Military Backpack
1. Direct Action Dragon Egg Tactical Backpack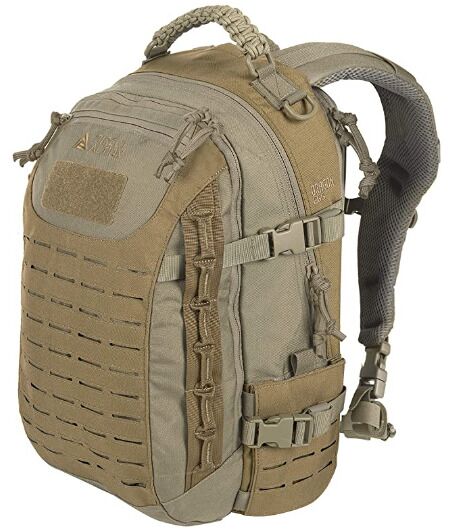 The Direct Action backpack has a capacity of 25 liters and is an excellent choice for shorter trips or excursions.
This tiny backpack offers many useful features that make it quite adaptable.
Made of 500D Cordura, a tough material that can handle almost everything you throw at it, this bag is built to last. The outside includes a water-repellent treatment to keep your stuff dry in the rain and snow.
In addition to being robust and water-resistant, the backpack is also aesthetically pleasing. The product may be used for any outdoor activity and even regularly when traveling.
Although it is not the largest bushcraft bag available, the sections and pockets assist in keeping everything in its proper place when traveling.
The MOLLE webbing system on both the front and sides of the pack provides a little something more to the overall look. The breathable vent system allows air to circulate through the bag, keeping your back cool while you're carrying it.
It's a nice backpack to carry about; the cushioning on the shoulder sleeves and back and the optional waist belt all contribute to this comfort.
All of the straps on the backpack are adjustable and feature velcro closures to keep them in place. It's not as inexpensive as some other bushcraft packs on the market, but you get what you are paying for.
Product Features
The lining is made of cotton.
Side pockets have been revised and are now fitted with elastic for expansion.
Lightweight and extremely adaptable.
| | |
| --- | --- |
| Manufacturer | Direct Action |
| Department | Unisex-adult |
| Item Weight | 3.57 pounds |
| Color | Multi Colors |
Pros
Zipper closure
Rugged Design
water resistant
Vent System provides increased comfort.
---
2. Military Rucksack Alice Pack Army Backpack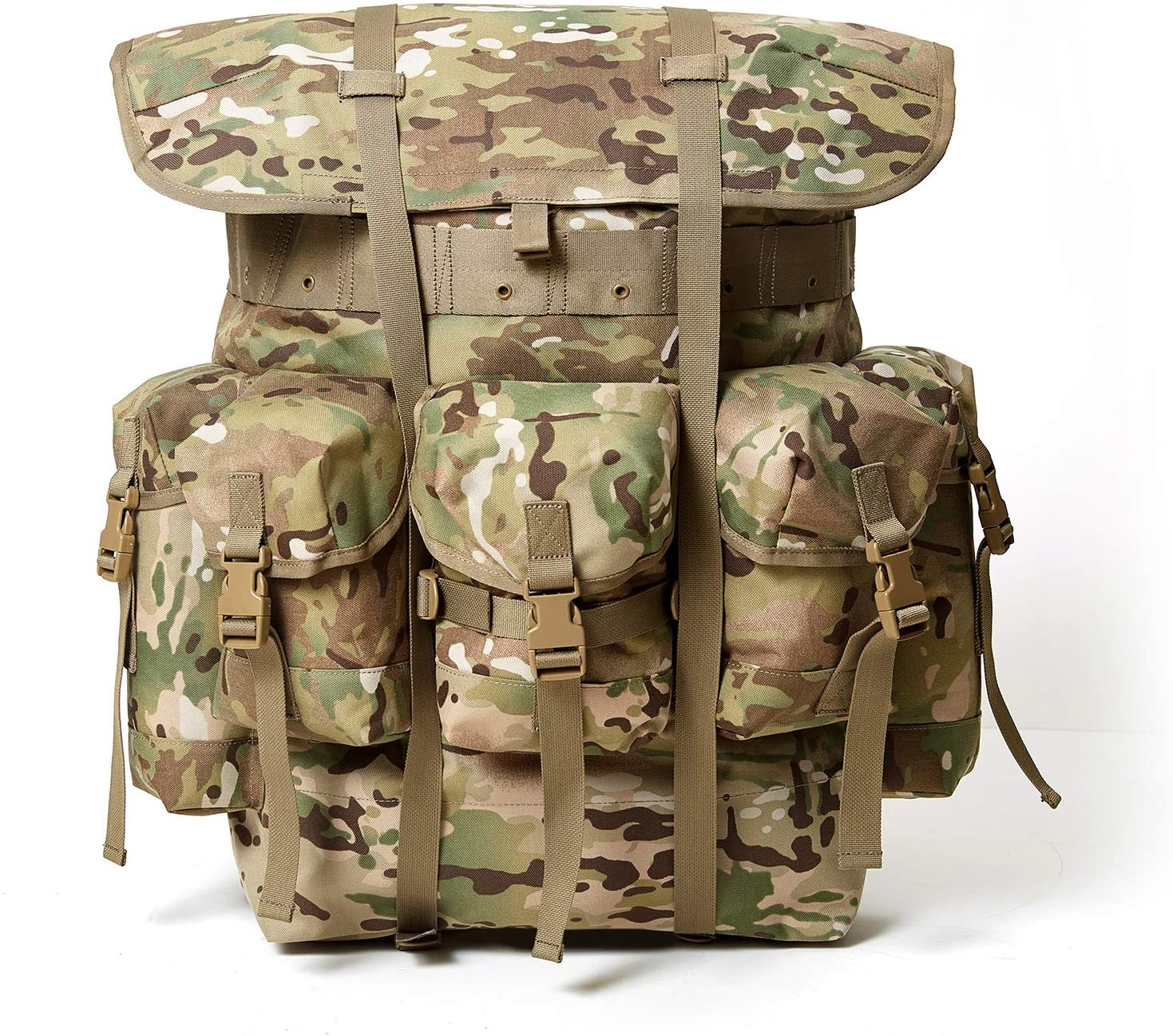 Lightweight Personal Carrying Equipment in the military-style BACKPACK.
This backpack model has been used by the United States Army since the early twentieth century.
It is a backpack that will last you just as long.
A 1000D material is used to construct the pack, and an internal liner is included to increase the pack's durability and longevity.
One huge compartment with a drawcord closing and five external pockets with buckles make up the design, which is basic enough.
A combination of cushioned shoulder straps and a kidney pad strap help to anchor the pack to your body, making the burden a little more tolerable.
When an emergency occurs, the pack is equipped with a quick-release device that ensures the pack is dropped as quickly as possible.
Aluminum and iron are used in the construction of this pack to ensure that it is both lightweight and robust.
The MT Alice Backpack is designed to be used with the ALICE Butt Pack to provide even more storage capacity and easy access to any smaller things you may require.
So it should come as no surprise that this item is quite popular among military fans and those searching for a high-quality bushcraFt bag.
Product Features
Dimensions are universal.
Five outer compartments, as well as a pouch with a drawstring clasp.
Three utility pockets with strap and buckle closures may be adjusted to fit your needs.
With a separate pocket to hold the radio device
| | |
| --- | --- |
| Manufacturer | MT Store |
| Department | Men |
| Item Weight | 7 pounds |
| Color | Multi Camo Colors |
Pros
Design that is both simple and functional, with lots of storage space.
Quick release for emergencies.
Butt Pack is included in the design.
Made to last a long time in difficult conditions.
Cons
Most individuals aren't choosing it with an exposed metal frame since it might be unpleasant.
Heavyweight of 7 pounds.
---
3. MOUNTAINTOP Hiking Backpack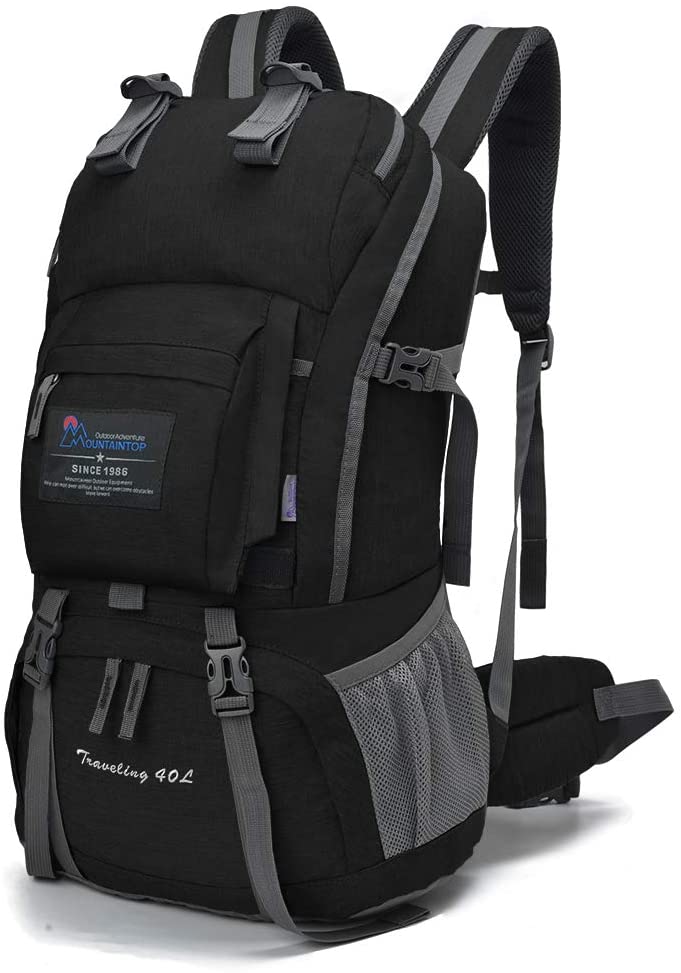 Designed for mid-sized hikers, the MOUNTAINTOP Hiking Backpack has enough room for a reasonable amount of stuff without being unduly cumbersome.
With a customizable hip belt and chest strap to assist the weight of your load evenly and provide a comfortable fit, as well as cushioned shoulder straps for convenience and a well-ventilated back panel to decrease back sweatiness, this backpack is a great choice.
While in the field, you can use the laptop pocket on this bushcraft backpack, which is quite convenient if you want to examine your images or drone video while you're out in the field.
There's also a section that can accommodate water bladders and a tube storage area so that you can stay hydrated while on the go.
It has a front zipped pocket, and there are side water bottle holders as well, but there might be a few more interior pockets, and the bottle holders could be a bit longer.
It has many adjustable hooks, so you can easily attach roll mats, trekking poles, or even camping gear to this pack.
This double bag is well-constructed, with YKK zippers and hooks, and it will keep you well-organized and will not let you fail.
Product Features
Backpack with a lot of durability
Featuring a variety of pockets and storage sections,
This chair is comfortable and supportive with breathable mesh cushioning and a vented back system.
Both urban explorers and outdoor enthusiasts will benefit from this backpack designed for ladies and men.
| | |
| --- | --- |
| Manufacturer | Mardingtop |
| Department | Unisex-adult |
| Item Weight | 2.1 pounds |
| Color | Multi Colors |
Pros
Hip belts and sternum straps that can be adjusted.
Extra gear may be hung from many adjustable loops.
Compatible with hydration.
There are a variety of color choices.
Cons
It would be nice if there were more internal compartments.
The water bottle holders are a little on the short side.
---
4. GEARONIC TM 21L Vintage Canvas Backpack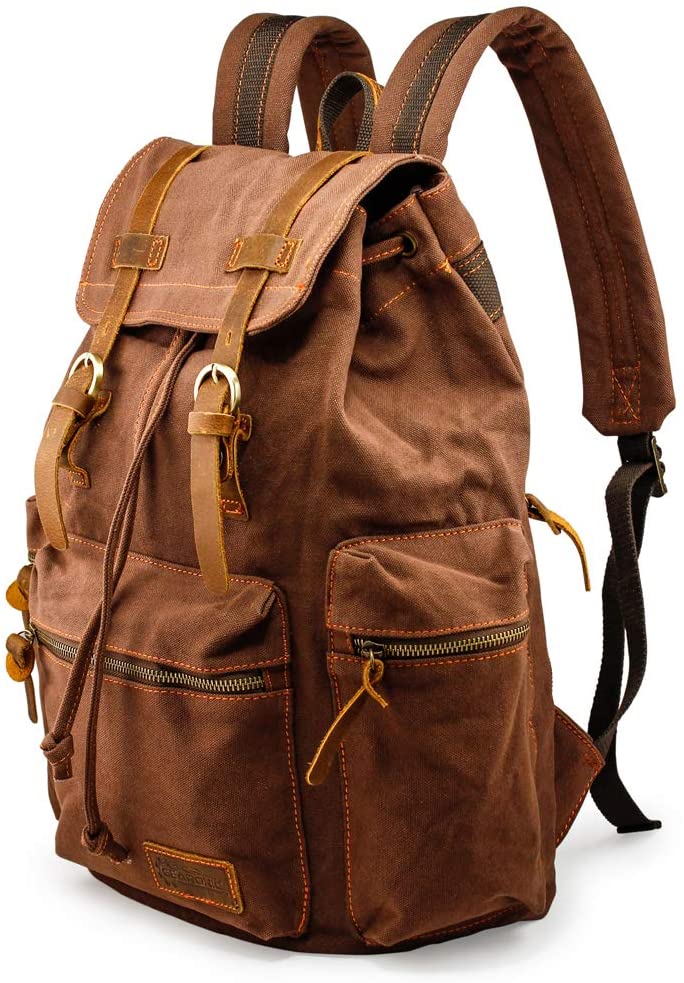 The GEARONIC Canvas Backpack is yet another great backpack that provides excellent usefulness despite its tiny size.
There are four exterior zipped compartments and six internal zippered pockets, so there is a place for everything.
The pocket itself provides more than enough space for a meal, a change of clothing, and a few extras to be carried around.
One disadvantage is the absence of external attachment sites, but with all of the compartments, it's possible that you won't need them in the first place.
Because of the elastic closure on the main compartment, you have a great deal of freedom – you can even leave objects peeping out the top if you need to, if necessary. One minor complaint is that the zippers are a little on the small side, making them a little difficult to hold when you're in a hurry.
This bushcraft backpack is also really fashionable. It is undoubtedly one of the most attractive bushcraft backpacks available to withstand the rigors of living in the wilderness.
The tough canvas, brass rivets, and leather belts not only look fantastic but are also built to last. We like that the corners have been reinforced with leather to provide even more toughness.
Just make sure you have a rain cover with you in case it starts to rain because the canvas will become wet very quickly in a deluge.
Product Features
Roomy and Versatile in Design.
Materials of Extreme Quality
Convenient Compartments in A Variety of Sizes
This Is an Excellent Hiking Rucksack.
| | |
| --- | --- |
| Manufacturer | GEARONIC |
| Department | Men |
| Item Weight | 1.6 pounds |
| Color | Multi Colors |
Pros
Both are long-lasting and fashionable.
There are several pockets.
Leather is used to strengthen the corners.
Excellent for day trips.
Cons
There are no external connection points on this model.
It will easily become soaked.
Small zippers are used.
---
5. NOOLA Tactical Military Backpack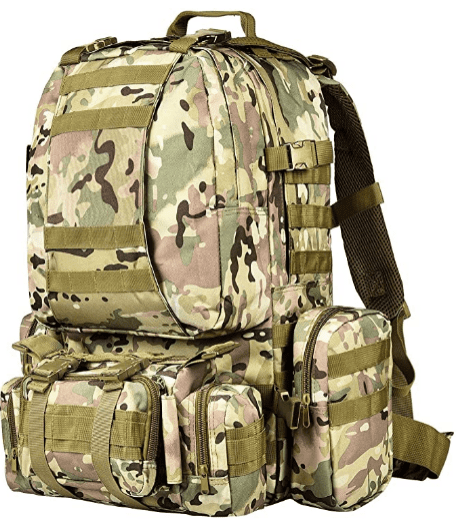 The NOOLA Military Backpack was created to be a tough tactical assault pack that can withstand the elements.
Aside from the fact that the 600D polyester material is weather-resistant, the bag also features rain diverting sleeves to keep water away from vulnerable areas.
The zippers are likewise heavy-duty and will not let you down under any circumstance. However, even though the strap tips are all 'fold and sewed' to prevent them from shifting, after time, you may find yourself having to take a break to tighten them again.
One of the most useful features of this bushcraft backpack is its three detachable compartments, allowing you to select between a front portion and two side portions, or you can eliminate the side sections to reduce the backpack's weight.
If you decide that you require immediate access to part of your stuff, the front piece may even be carried as a tactical waist pack or shoulder bag, depending on your preference. The molle on the side provides plenty of room for attaching additional equipment.
A waist belt and customizable padded sleeves let you carry your weight easily, whereas the mesh ventilation keeps you from overheating while you're working.
Whether you want a variety of camo patterns or a traditional black look, this is an excellent pack to take with you when you're out in the wilderness.
Product Features
Pockets and zipper compartments that are well-organized.
The main compartment of the military backpack is rather spacious.
Mole Tactical Backpack with an effective Mole system.
The lining is made of polyester.
| | |
| --- | --- |
| Manufacturer | NOOLA |
| Department | Unisex-adult |
| Item Weight | 4.1 pounds |
| Color | Camo |
Pros
Two side pockets may be removed.
Extremely durable materials.
Flaps to redirect rainwater.
Cons
Buckle straps are prone to becoming dislodged.
What to Look for When buying a bushcraft backpack: A small Buying Guide
Several factors must be considered to be considered one of the finest backpacks for bushcraft.
Durability
Bushcrafters like to go off the beaten path. This involves traveling difficult terrain easily and having equipment that can handle it. Bushcrafting backpacks are tested from the inside as well as the outside. Our gear features jagged edges and sharper parts than the usual hiker's gear, like axes and saws.
Material
I hate it when my pack gets caught or torn, and it worsens over time. Strong fabrics like ripstop, Cordura or other top-end Nylons will not only withstand harm but also make repairs easier. We don't advocate leather in the cheap category due to issues with corners cut.
Capacity
To survive for a week, you'll need to pack all the necessary and a big bag. For a day trip, a modest to medium-sized bag is sufficient. Plus, if the weather is favorable, you can pack light. A mid-sized bag with connection points for extra stuff is ideal if you're only staying a couple of nights.
Price
Of course, we must consider the cost. Some packs are cheap, but others will add to your price. First, determine your budget. If you have additional cash, you may improve the quality of your bags. Buying a cheap pack usually didn't save a hundred bucks.
These inexpensive packs still hold up, but you're more likely to be without a warranty or witness failure in the pack early—better materials, better construction, and overall a better bundle.
Frequently Asked Questions
How do I pick a bushcraft bag?
You don't want your bushcraft backpack to be hefty because you'll be hauling heavy loads within it. Choose a light backpack if you want to carry it for extended distances. Examine the materials since they might alter the weight.
What's a bushcraft bag?
Bushcraft backpacks are tough and durable, with enough room for your survival gear. Our guide to the finest bushcraft backpack covers lightweight mid-size packs and huge packs that can carry all your camping supplies.
What is wild camping?
Bushcraft camping is simply survivalist camping. In a camp with some comforts and learning survival skills, or carrying the bare minimum into the wilderness to fully immerse yourself
Wrapping it Up
We've noticed a few things after looking at the best bushcraft backpacks. All of the top-rated items have certain features in common.
Ideally, they should be built of sturdy, long-lasting materials, be able to contain all of your stuff, and be pleasant to wear.
We hope you found our essay on the finest bushcraft backpack informative. We went into great depth as to why we think they are the best bushcraft backpacks on the Market. We've also included a bushcraft backpack buyer's guide to assist you in your search.
Good Luck!